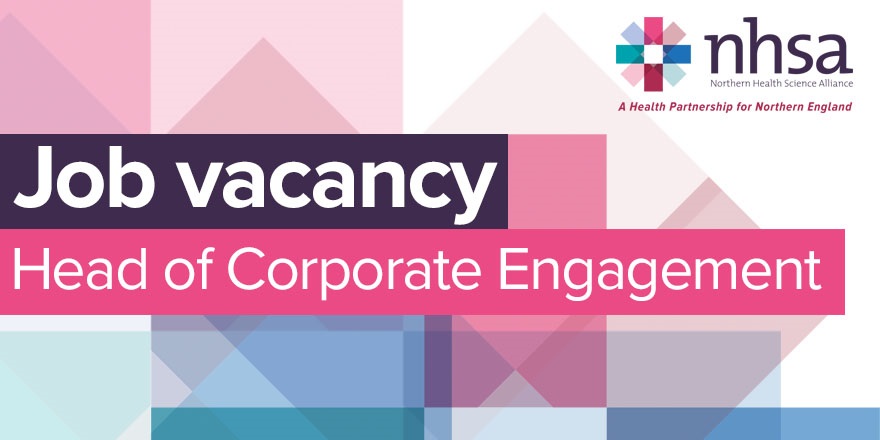 Vacancies
Vacancy for Head of Corporate Engagement
Vacancy: Head of Corporate Engagement
Organisation: The Northern Health Science Alliance (the NHSA)
Vacancy reference: 19_NHSA_HoCE
Closing date: 17.00 on Wednesday 24th July 2019
Location and base: Agile in the North of England with extensive regional and national travel and intermittent international travel
Salary: Commensurate with experience circa £60k
Contract: Full time (based on a 40-hour working week) fixed term for one year initially, pending funding approval to extend fixed term to three years
Interview date: 1st or 2nd August 2019, in Newcastle
About Us
Currently counting 24 constituent members, The Northern Health Science Alliance Ltd, is a company limited by guarantee hosted by Newcastle University, and was established in 2012 as a front door to the North of England's health research system, working towards building a healthier and wealthier region.  As a partnership and company established by leading universities, NHS Hospital Trusts and Academic Health Science Networks across the North of England's 16m population, the NHSA provides a portal to its internationally recognised health science excellence.
By bringing this alliance together, the national and international profile of the NHSA has increased considerably and our social media impact places our work at the very heart of regional, national and international discussion and debate.
About You
This unique and diverse role requires you to work with our relevant networks and have an understanding of the different sectors the Alliance serves, with a core focus of maintaining relationships with our constituent member institutions and organisations across the entire Northern region. You will need to successfully engage with a wide variety of commercial, academic and NHS stakeholders at a senior level, possess a sophisticated flair for influencing decision-making and negotiation and possess demonstrable ability to drive communications with these groups.
Whilst the successful candidate will have the title of 'Head of Corporate Engagement' and have line management responsibility for corporate engagement staff, we are looking for an 'all-rounder' who understands the necessity for team work and the importance of rolling up their sleeves to assist in all areas of our activity whenever they are needed. The day to day activity outlined in the job description provides more detail, and the successful candidate can expect their role to be diverse with no two days being the same.
For an informal and confidential discussion, please email our Interim Chief Executive Nicola.Wilson@theNHSA.co.uk to schedule a call.
To apply, please submit your CV along with a word document demonstrating that you understand the Job Description and outlining how you meet the Person Specification via email to Nicola.Wilson@theNHSA.co.uk by no later than 17.00 on Wednesday 24th July 2019.
Applicants who have been successfully shortlisted for interview will be informed by email by 17.00 on Friday 26th July.
Resources
Job description and person specification
View