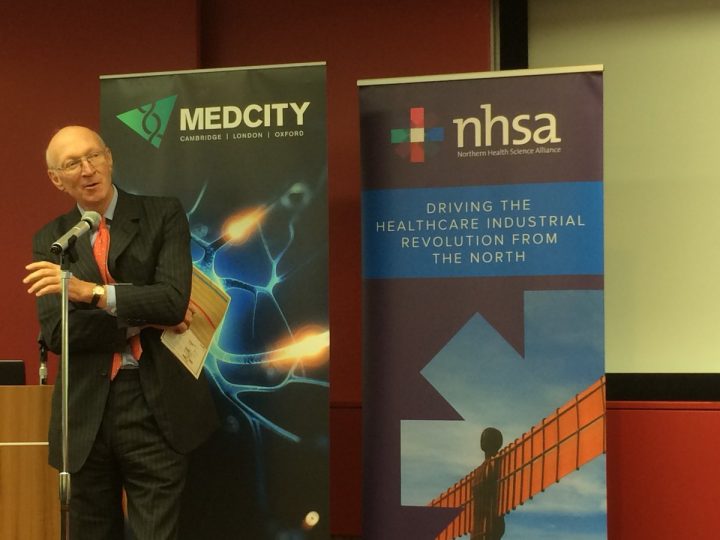 Nicola Wilson: diary of BioJapan, day one
NHSA Chief of Staff Nicola Wilson blogs from BioJapan
13th November 2017
Today saw the NHSA joining forces with MedCity in co-delivering a UK Life Sciences Symposium, an excellence showcase of UK expertise, at the Nihonbashi Life Sciences Centre in Tokyo. Our generous hosts, Link-J offered us an amazing space to use, and the symposium was well attended by Japanese colleagues working in the health and life sciences sector.
Sessions were delivered by UK experts; researchers, academics, clinicians and business development leaders, around topics including academic/industry interface; incubation, innovation and creating successful spin-outs; the role of digital health and big data in the NHS and Japan/UK partnership opportunities.
It was clear from today's discussion, and feedback, that the North is in a unique and enviable position in our offer of clinical, research and industry clusters, coupled with our static, geographically-defined population.
Dr Liz Mear, NHSA board member and CEO of the Innovation Agency, when asked to reflect on the day said "What we in the North are doing, and the way in which we work together, is actually truly innovative already, and we should be proud of that.
"The Northern offer can only be furthered by the commitment reiterated by our Government following the recent Northern Powerhouse Partnership report."
Professor Mike Trenell of Newcastle University, who shared his expertise on scale-up and adoption of innovation at northern and national level, agreed, adding, "core investment for the North can expedite influence on a global scale and would provide us the vital opportunity to implement the successes of CHC to an international market."
At the end of our busy day, we now look forward to Day One of BioJapan Conference that commences tomorrow and runs until the end of the week.