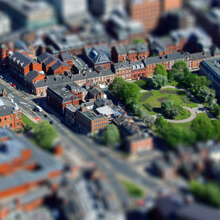 £14m for North centres to bring ground-breaking cell therapy cures into the NHS
THE North of England has been rewarded for its collaborative working with £14m of funding to deliver cutting-edge 'advanced therapies' treatments
15th March 2018
THE North of England has been rewarded for its collaborative working with £14m of funding to deliver cutting-edge 'advanced therapies' treatments which have the potential to cure patients of previously incurable diseases.
The money from the Industrial Strategy Challenge Fund, via Innovate UK's Cell and Gene Therapy (CGT) Catapult, has been given to two advanced therapy treatment centres (ATTCs) in the region. These will bring together industry, academic and NHS partners. It is expected contributions from industry looking to develop new treatments will unlock further millions.
The Northern Alliance Advanced Therapies treatment centre (NAATTC) joins together Newcastle, Leeds and Scotland to specialise in the delivery of cell and gene therapy products. The Innovate Manchester Advanced Therapy Centre Hub (iMATCH) is a consortium of hospitals in the city which will focus on cancer, genetic and degenerative diseases. Each have been given £7m.
Director of Operations Research and Innovation at Leeds Teaching Hospitals Chris Herbert said: "Being part of the Northern Alliance NAATTC is a real coup for Leeds. Though our involvement in this major national initiative we will be able to bring the benefits of advance therapies to patients at Leeds Teaching Hospitals and from across Yorkshire.
"We will build collaborative research programmes with industry partners from across the world and in the future, once the benefits of these therapies are proven, enable much wider use for patient benefits."
Neil Watson, Director of Pharmacy at The Newcastle upon Tyne Hospitals NHS Foundation Trust and the Northern Alliance Centre Co-Director said: "We are delighted to be able to lead this new centre tasked with ensuring appropriate access to these innovative medicines for patients across the UK."
Unlike conventional medicines, cell and gene therapies offer revolutionary treatments which repair, replace, regenerate and re-engineer genes, cells and tissues to restore normal function, sometimes offering cures where acute unmet medical need exists.
Such treatments often manipulate the patient's own cells to fight these diseases. However, new systems are needed to deliver these transformative therapies into the NHS.
Dr Hakim Yadi, CEO of the Northern Health Science Alliance, said: "The North has a history of collaborative working which sees its great cities and institutions work with, not against, each other.
"This means it is well-placed to deliver the advances in cell and gene therapies needed to offer treatments and potentially cures to patients across the UK and beyond."
Dr Fiona Thistlethwaite, Medical Oncology Consultant at The Christie and iMATCH Project Director said: "Advanced therapies are very challenging to deliver but offer, potentially, life-changing results for patients with little or no alternative options.
"The live nature of these medicines means they have the potential to divide in the way normal cells do and stay in the body longer than standard drugs. This can give them an enhanced therapeutic effect over other synthetically created drugs. It is an area of medicine with huge promise.
"This government pump-priming enables us to address the significant obstacles associated with each step in the clinical trial supply chain in order to bring about a step-change in the availability of trials."
The three UK centres are; Innovate Manchester Advanced Therapy Centre Hub (iMATCH), the Midlands-Wales Advanced Therapy Treatment Centre (MW-ATTC, comprising Birmingham, Wales and Nottingham) and the Northern Alliance Advanced Therapies Treatment Centre(NAATTC, comprising Scotland, Newcastle and Leeds) will specialise in the delivery of cell and gene therapy products.