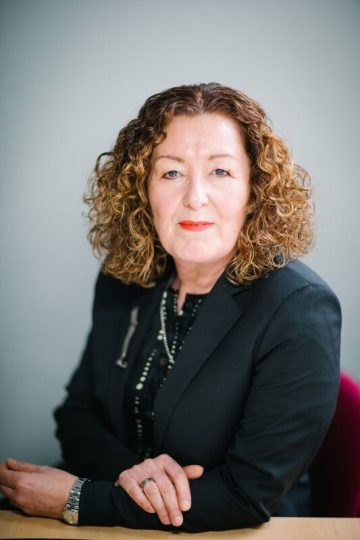 Dame Jackie Daniel appointed to NHSA board
NHSA appoints new NHS Chief Executive to board
24th October 2018
THE Northern Health Science Alliance is delighted to announce Dame Jackie Daniel has been elected to represent northern hospitals on its board of directors.
Dame Jackie, who began work as Chief Executive of Newcastle upon Tyne Hospitals NHS Foundation Trust this summer, takes up her post on the NHS board with immediate effect.
She was elected to the role by the NHSA's council, which is made up of the Deans of the North's research intensive universities, Chief Executives of its research intensive hospitals and Chief Executives of the northern Academic Health Science Networks.
Dame Jackie said: "I am thrilled to be elected as board member for the Northern Health Science Alliance.
"The work the NHSA has done in creating a voice for the North's health sciences and in advocating for the North in government and beyond has made a significant impact.
"I look forward to helping the alliance develop its work further to grow the sector for the health and wealth of people in the North of England and the UK as a whole."
Dame Jackie began her NHS professional career as a nurse before moving into NHS management.  She has been a Chief Executive Officer for the last 16 years and has led Acute, Mental Health and a Specialist Trust.  She is former Chief Executive Officer of University Hospitals of Morecambe Bay NHS Foundation Trust which she joined in 2012 and led out of special measures.
Dame Jackie was recognised in the 2017 Queen's New Year's Honours for her services to health care.  She has a degree in Nursing Studies, a masters degree in Quality Assurance in Health and Social Care and is a qualified business and personal coach.
An Executive in Residence with Lancaster University Management School she is an avid commentator on NHS related issues such as integrated care systems and creating a sustainable NHS for future generations.  Passionate about the role leadership plays she is a strong advocate of the creation of diverse leadership and the promotion of women in leadership roles and a firm believer in liberating potential through engaging and supporting people.
Professor David Burn, chair of the board for the NHSA and Pro-Vice-Chancellor for the Faculty of Medical Sciences at Newcastle University said: "Having Dame Jackie on the board of the NHSA will be a great asset for the whole of the North of England.
"She has proven herself to be an exceptional leader and strategist and her appointment will have a demonstrably positive effect on the work of the NHSA."
Dr Hakim Yadi OBE, CEO of the NHSA said: "I am delighted that Dame Jackie has been elected to the NHSA board. This is a hugely important time for the NHSA, and for the health sector across the whole of the UK. Dame Jackie's appointment could not have come at a more pivotal moment."
Dame Jackie replaces Siobhan McArdle, chief executive of South Tees NHS Foundation Trust who stepped down in early autumn.
ENDS
MEDIA CONTACT
For more interviews, comment etc. contact Hannah.Davies@theNHSA.co.uk, 07342882383.
EDITORS NOTES
The NHSA ltd is a partnership established by the leading Universities and NHS Hospital Trusts in the North of England to improve the health and wealth of the region by creating an internationally recognised life science and healthcare system. It links eight universities and eight research-intensive NHS Teaching Trusts with four Academic Health Science Networks (AHSNs covering a population of over 15 million.
The NHSA's members include: Newcastle University, Durham University, University of York, University of Liverpool, University of Manchester, Lancaster University, University of Sheffield, University of Leeds, The Newcastle Upon Tyne Hospitals NHS Trust, South Tees Hospitals NHS Trust, Leeds Teaching Hospitals, Sheffield Teaching Hospitals, Manchester University NHS Foundation Trust, The Royal Liverpool and Broadgreen University Hospitals, Hull and East Yorkshire Hospitals, Lancashire Teaching Hospitals, Innovation Agency AHSN, Yorkshire and Humber AHSN, North East North Cumbria AHSN, Health Innovation Manchester (Greater Manchester AHSN).
For more information on the NHSA visit www.theNHSA.co.uk