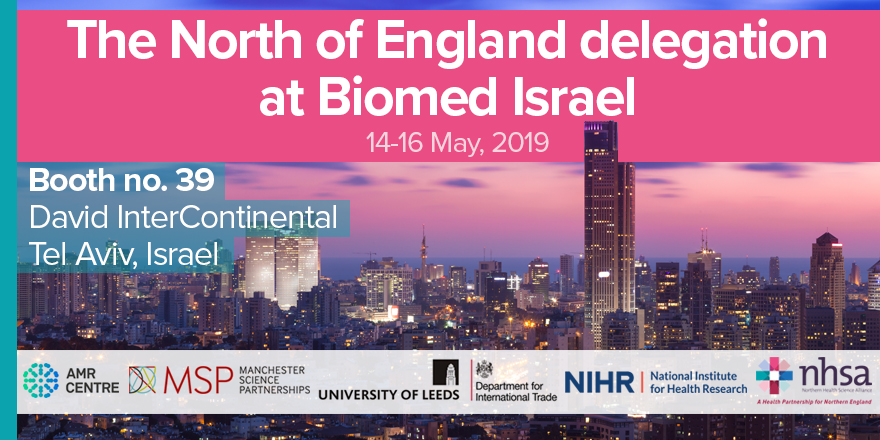 NHSA to lead first life sciences delegation to Biomed in Israel
North's life sciences landscape will be showcased at leading Israeli medtech conference
7th May 2019
The North's life sciences landscape will be showcased on an international stage at a leading Israeli medtech conference.
The Northern Health Science Alliance (NHSA), together with the UK BioIndustry Association (BIA) and UK Israel Tech Hub, is leading its first delegation to MIXiii-Biomed in Tel Aviv, which takes place from 14-16 May.
Attracting over 6,000 healthcare professionals, scientists, engineers, and investors from 45 countries, Biomed will provide an opportunity to showcase the North of England's excellence in health research and innovation among industry world leaders.
Israel has a thriving life sciences industry, boasting more than 1,400 healthcare start-ups, and it is hoped the NHSA trade mission will provide a platform for northern organisations to tap into this market.
Made up of academics, industry and healthcare professionals, the northern delegation includes representatives from NIHR Clinical Research Network, The AMR Centre, based at Alderley Park, Cheshire, Manchester Science Partnerships, Leeds University, and the Northern Powerhouse at the Department for International Trade.
Keith Miller, Head of Corporate Engagement at NHSA, said: "Israel is a life sciences powerhouse and a world leader in key areas of the industry. Since we signed the memorandum of understanding with the UK Israel Tech Hub a year ago, we have continued to strengthen our relationship with leading figures in the country and we're delighted to be a driving force for the UK presence at this year's Biomed conference.
"We have the chance to really champion the North's life sciences offer to a global medtech audience, which we hope will help foster new relationships with exciting companies from around the world to, ultimately, help bring new health and medtech innovations to the North of England."
The delegation will form part of the UK Pavilion in the main exhibition hall at Biomed, alongside other organisations, stakeholders and companies from across the UK.
The four-day visit will also include attendance at an exclusive UK networking event hosted at the British Embassy in Tel Aviv the day before the conference.
Samuel Cronin, Healthcare Innovation Manager at the UK Israel Tech Hub, said: "We are delighted to be working alongside the NHSA to bring a delegation of northern life sciences experts to Biomed.
"Israel is at the forefront of healthcare innovation and this presents many opportunities for the UK's healthcare system. We hope that by supporting the North delegation, we can encourage and build lasting links between organisations in the UK and Israel."
Jon Kudlick, Interim Director of Business Development and Membership Services at BIA said: "The BIA are delighted to be able to showcase the UK as a global leader in biotech, through the work that we do, and through our members, Sensyne Health and Horizon Discovery.
"Israel is an innovation heavyweight, and MIXiii-Biomed is the perfect forum to showcase the UK's strengths in advanced therapies, artificial intelligence and more. International engagement is a key priority for the BIA, providing opportunities for our members to grow their profile on a global stage."
Israel is the world leader in the number of medical device patents per capita, and second in biopharmaceuticals. The country is also leading the way in health information technology, with 100% of Israeli physicians using electronic health records.
Biomed represents an opportunity for participants to experience Israel's life science-focused tech and innovation first-hand and encourages academic institutions, research facilities and start-ups to connect and collaborate with international health industry leaders.
The conference and exhibition takes place in Tel Aviv from 14-16 May. For more information, visit: http://kenes-exhibitions.com/biomed/