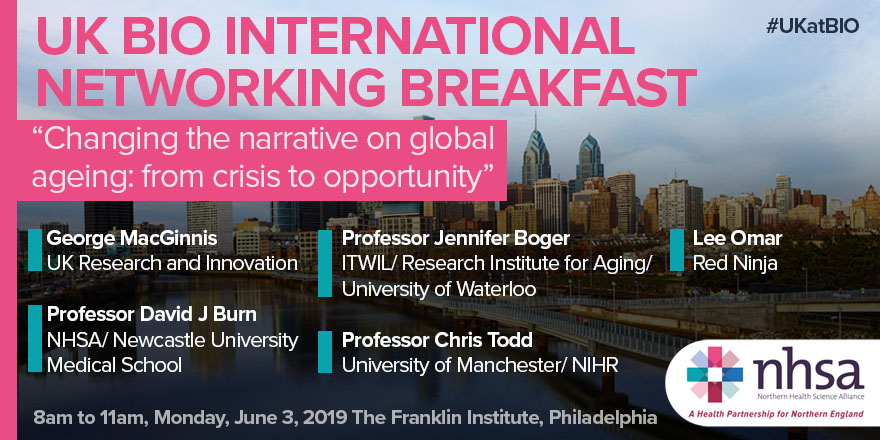 North ageing experts head to US to showcase UK's strengths to global biotech leaders
Ageing experts head to US to showcase UK's strengths
29th May 2019
Ageing experts from the North of England are travelling to the US to showcase the region's strengths in healthy ageing to an international audience. 
Leaders from government, academia and industry are travelling to BIO 2019 in Philadelphia next week (3 June) to join the panel of speakers at the Northern Health Science Alliance's (NHSA) UK BIO International Networking Breakfast on 3 June.  
Hosted by the NHSA, the UK networking breakfast 'Changing the narrative on global ageing: from crisis to opportunity' offers speakers and delegates the chance to discuss the challenges and opportunities for international innovation arising from an ageing society. 
Among the global line-up of speakers are experts from the UK and Canada, including George MacGinnis, Healthy Ageing Challenge Director at UK Research and Innovation, and Dr Jennifer Boger, Director at the Intelligent Technology for Wellness and Independent Living lab and Assistant Professor at the University of Waterloo in Canada. 
The North of England's strengths in healthy ageing will also take centre stage at the event with speakers including NHSA Chair, Professor David Burn, Professor Chris Todd, from the University of Manchester, and Lee Omar, from Red Ninja Studios in Liverpool.  
Speaker George MacGinnis leads the £98 million research and innovation programme supporting the UK Government's Ageing Society Grand Challenge, which aims to ensure that people can enjoy at least five extra healthy, independent years of life by 2035, while narrowing the gap between the experience of the richest and poorest. 
He said: "Ageing populations are too often viewed through the lens of rising demand on health, care and welfare services. Instead, we must see the opportunity to rethink later life by focusing on how we can improve quality of life to match the longer length of our lives. This is not just about care, but that is certainly a factor. Unless we take action, increasingly the prospect for later life would be living in poverty, isolation, poor health and cognitive decline. 
"Within that there are areas where we can make early impact. I think three in particular stand out. These are services to enable people to be more active, age-friendly homes including opportunities to use smart technology, and preventative health."  
He added: "This is a global challenge. Some countries such as Japan and China are already faced with the challenges. There is much to learn from elsewhere, as well as real opportunities for the UK."  
NHSA Chair Professor David Burn, who will chair the breakfast event, said: "Creating a world in which we all live better, for longer is a vision that is shared by many organisations in the UK and around the world. With the UK networking breakfast, we have an opportunity to explore how others are working to achieve the same goal, to share what works and what doesn't work and collectively drive forward debate and action around the very important subject of healthy ageing."  
Lee Omar, CEO at Liverpool-based design-led technology company Red Ninja, added: "Participating in conferences like BIO 2019 are crucial as we meet with partners, who we collaborate with to tackle the big global challenges of our time, such as the ageing population.  
"We work in partnership with the NHS to develop digital solutions that keep us out of hospital and living longer happier lives in our communities. Working with the NHSA allows us to connect with world-class researchers and clinicians to develop robust future-proofed digital health products."  
Dr Jennifer Boger said: "Ageing is an experience that's shared by all of us. There's tremendous potential to support ageing in innovative, holistic, and personalised ways and this potential is growing every day; however, leveraging this potential requires collaboration from across disciplines, sectors, and geographies. Doing so will spark new and accessible ways to age more gracefully and with choices. 
"I'm excited to be part of this event as it's opportunities like these that help us to come together and see what our collective perspective can do." 
The UK BIO International Networking Breakfast 'Changing the narrative on global ageing: from crisis to opportunity' takes place on 3 June, 8am – 11am, at The Franklin Institute in Philadelphia. To register, visit: https://www.eventbrite.co.uk/e/uk-bio-international-networking-breakfast-2019-tickets-59381013209