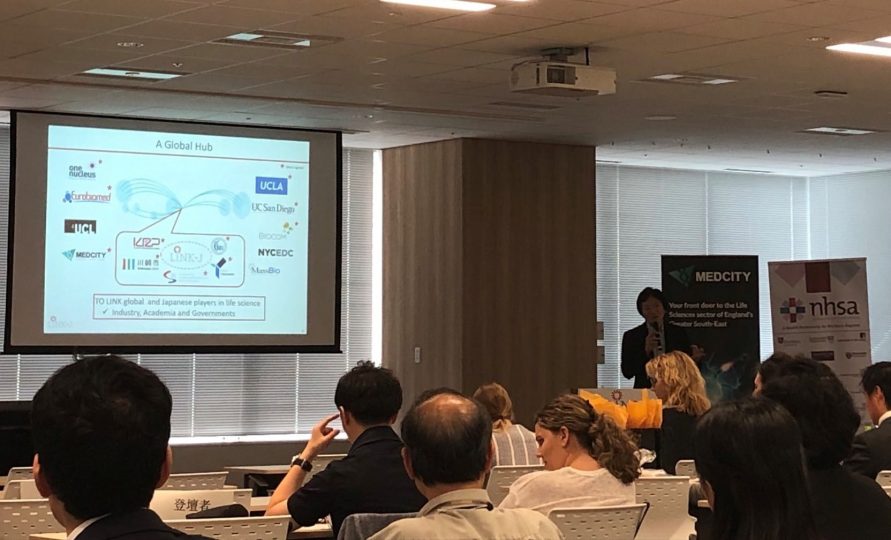 NHSA visit to Asia sparks collaboration interest in North of England
Innovation and research collaboration links between Asia and the North have been strengthened following the NHSA's recent visit to Japan and South Korea.
24th October 2019
Innovation and research collaboration links between Asia and the North of England have been strengthened following the Northern Health Science Alliance's recent visit to Japan and South Korea.
As part of a delegation of UK life sciences experts led by MedCity, the NHSA travelled to Japan earlier this month to represent its member institutions at BioJapan, one of the leading international partnering events for the biotechnology industry.
The conference attracted more than 1,200 organisations from over 34 countries and regions, with around 17,500 visitors attending the three-day event.
The NHSA has maintained a presence at BioJapan for the last three years and has continued to develop strong relationships with Japanese companies that are interested in exploring potential collaboration opportunities with the North of England.
Dr Ben Martyn, NHSA Business Development Officer and Analyst, said: "Japan is one of the largest pharmaceutical markets in the world and is at the cutting edge of key research areas including regenerative medicine and cell and gene therapies.
"It's vitally important that the North of England has a seat at the table at international events such as BioJapan to help elevate the region's life sciences offer on a global scale.
"It was clear from discussions we had that there is an appetite for collaboration with the UK as Japanese companies are moving towards the open innovation model. This presents opportunities for cluster organisations, like the NHSA, to help broker research collaborations between the two countries.
"We've had some really positive and encouraging conversations with Japanese companies that we're confident will bring benefit to our members."
The trade mission also took in other events in Japan including the Kobe Biomedical Innovation Cluster Symposium, UK Life Sciences Symposium, and the Link-J Global Life Sciences Session, which included two presentations from the NHSA showcasing the health science capabilities and assets available in the North.
Following the Japanese leg of the visit, the NHSA travelled to Seoul in South Korea to take part in the Seoul BioHub Symposium and the UK-South Korea Life Science Symposium.
Ben added: "It was fantastic to see the state-of-the-art facilities on offer to growing life sciences companies at BioHub and to visit the Korean Pharmaceutical and Biological Manufacturing Association to meet some of the country's largest pharmaceutical companies.
"The visit offered a valuable insight into the South Korean pharmaceutical industry and highlighted the potential for future collaboration within this market."