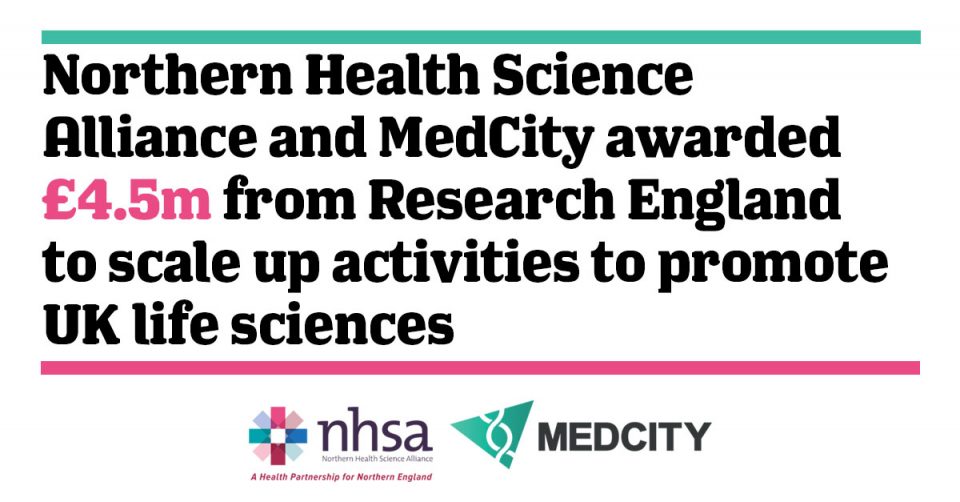 £4.5 million collaboration to back health innovations for patients
£4.5m collaboration between the NHSA and MedCity will foster economic growth and help speed up the development of health innovations to the public.
5th November 2019
A multimillion-pound initiative will bring together hospitals, universities and industry to boost the economy with life sciences innovations.
This is the first time that the Northern Health Science Alliance (NHSA) and MedCity have worked collaboratively to support the UK sector's growth and productivity in this way. Together the two life sciences cluster organisations cover a population of 34 million.
MedCity facilitates economic growth in life sciences by working with universities, industry and the NHS within London and the greater south east of England.  The NHSA brings together life sciences expertise in leading universities, NHS Teaching Trusts and Academic Health Science Networks across the North of England.
The new partnership will foster economic growth and help speed up the development of health innovations to the public. This will be done by linking academia, the NHS and companies across the UK's thriving life science related industry from small start-up enterprises to large pharma companies.
Life Sciences Minister Nadhim Zahawi said: "It's great to see Universities across the UK working collaboratively to ensure we remain a world-leader in medical discoveries that will save lives and grow our economy.

Through their work with our Universities, firms using life sciences technology are at the pinnacle of transformative developments across the health sector that are benefitting all our lives."
The project, funded by Research England, part of UK Research and Innovation, will improve the visibility of UK life sciences expertise on the international stage.
Whilst still operating as individual organisations to promote life sciences in their respective regions, the initiative has identified which elements of work will benefit from collaboration and aims to scale-up and maximise these activities, which include:
Building on and developing partnerships with Japan, South Korea, Israel, the Commonwealth Alliance and China to raise the UK's profile in these markets and provide a clear offer to prospective partners around research collaboration, knowledge exchange, clinical trials and technical co-operation. These international partnerships will bring additional expertise and support to the UK life sciences sector, allowing it to bring healthcare innovations to patients more quickly and more effectively.
Working with the different elements of the life sciences ecosystem including the Biomedical Research Centres, the Advanced Therapies Treatment Centres network and Health Data Research-UK to map out the Industrial Strategy and how to meet its Grand Challenges, particularly around AI and data, healthy ageing, genomics and advanced therapies.
Connecting the UK's life sciences clusters and, where appropriate, delivering joint projects and programmes of work with the ultimate goal of creating a 'Federation of UK Life Sciences Clusters'.
MedCity Chief Executive Neelam Patel, said: "This funding announcement is a clear recognition from Research England that collaboration is key to building on the current strength of UK life sciences and enabling it to reach its potential on a world stage. We are delighted to be working with the NHSA on this project.
"The UK life sciences sector is at a pivotal moment in its development, with exceptional governmental support in the form of the Industrial Strategy and a high level of interest from abroad in its academic, clinical and industrial excellence. Against this backdrop and to meet any challenges that might arise from Brexit, it is vital that we create the right conditions for the UK life sciences sector to grow and deliver its potential.
"MedCity and the NHSA have been identified as the leading life sciences cluster organisations in the UK and we are now combining our expertise and knowledge to deliver this exciting initiative for the benefit of the sector, the UK economy and the global society."
Dr Séamus O'Neill, Chief Executive at the NHSA, said: "We're delighted to be awarded funding from Research England. This collaboration with MedCity provides a real opportunity to build on our collective work to support and maintain a strong and vibrant life sciences sector within the UK.
"We have clear and defined aims to drive this work forward using the funding, with a focus on strengthening links across the life science clusters in the UK, delivering against the Industrial Strategy and championing the UK's life sciences offer internationally to attract investment into the sector.
"There is a wealth of health and life science talent, innovation and ground-breaking activity in the North and this collaboration will ensure our assets and capabilities are visible on a national and global scale.
"On behalf of Neelam and myself, I'd like to take the opportunity to thank Nicola Wilson, NHSA Deputy Chief Executive, and Sarah Haywood, former MedCity Chief Executive, for leading the shaping of the bid."