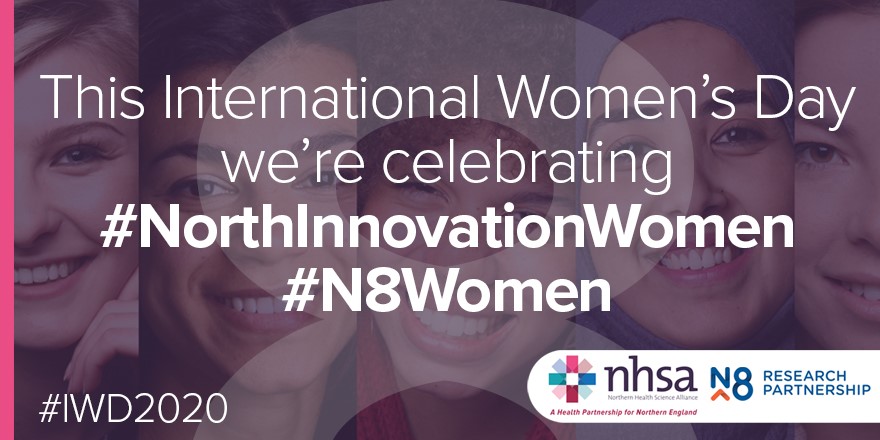 #NorthInnovationWomen returns for third year
We've partnered up with N8 Research Partnership on our successful #NorthInnovationWomen campaign
21st February 2020
As International Women's Day approaches, the NHSA and N8 Research Partnership plan to celebrate inspirational women making their mark on the world of innovation.
We've partnered up with N8 Research Partnership on our successful #NorthInnovationWomen campaign, which aims to promote the work of women in innovation across the North, presenting a showcase of role models to women and girls thinking of working in or studying the many sectors where innovation is key.
The Northern Health Science Alliance and the N8 Research Partnership are both passionate about gender equality and championing those in the North of England that are achieving great things in their field of work.
The idea is simple – we're asking our Twitter followers to use the hashtag #NorthInnovationWomen to recognise the excellence of female innovators working across the North.
Last year, we received more than 300 recommendations of women working in diverse roles within health and life science innovation. This year, we're broadening the scope and would like to hear about innovative women across all sectors.
So, if you have a friend, colleague or peer who inspires you with their innovative approach to life and/or work, then get involved in #NorthInnovationWomen 2020 on Twitter.
To tell us about your #NorthInnovationWomen recommendations, you must follow the below steps on Twitter for your suggestion to be counted:
Use the hashtag #NorthInnovationWomen
Tag the person you want to recommend
List their name, role and institution (or as much information as you know/can fit into your tweet)
All suggestions must be made by Wednesday 4th March 2020. The full list will be published on the NHSA and N8 Research Partnership's websites on International Women's Day, which falls on Sunday 8th March.
Professor Nicola Wilson, Deputy Chief Executive at the NHSA, said: "The #NorthInnovationWomen campaign is getting bigger and better each year. We're delighted to bring it back for 2020 with the support of the N8 Research Partnership, an organisation with which our ethos and approach to gender equality aligns perfectly.
"Creating an equal world is so incredibly important and by celebrating the successes of women, we can help inspire future generations to push boundaries. We know that the North of England is home to some brilliant women doing amazing things, and we want to hear about them through #NorthInnovationWomen."
Dr Annette Bramley, Director of the N8 Research Partnership, said: "We are so pleased to collaborate with the NHSA to encourage a culture of inclusiveness and diversity, providing a platform for women in innovation to lift each other up and celebrate the strengths of our female talent in the North.
"Inclusiveness within the NHSA and N8 partnerships makes us stronger and creates an environment where we can collaborate with others with a diversity of disciplines, perspectives and methods, which will lead to better research outcomes and impacts for the Northern Powerhouse and beyond."
International Women's Day is a global day celebrating the social, economic, cultural and political achievements of women – while also marking a call to action for accelerating gender equality. The campaign theme for International Women's Day 2020 is #EachforEqual.
Find out more about #IWD2020 at: https://www.internationalwomensday.com/