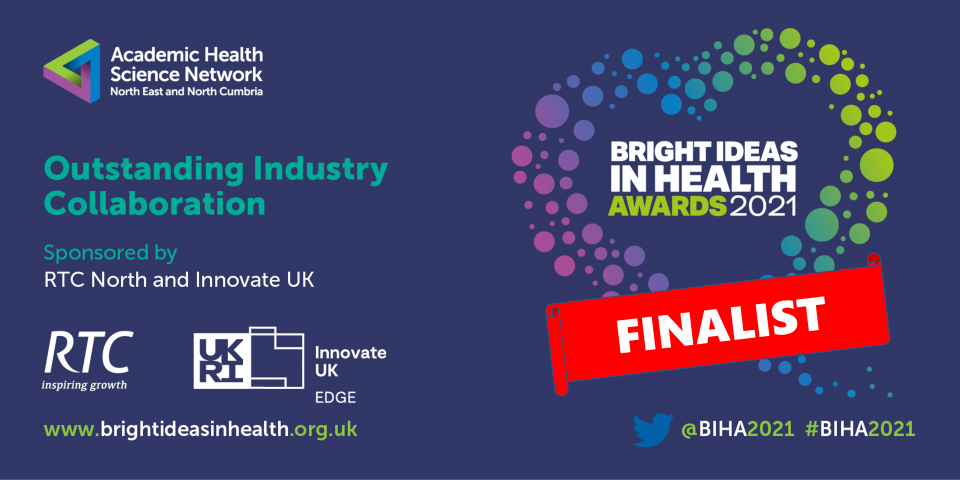 Northern Bone Health Project shortlisted
Northern Bone Health Project in the running for a Bright Ideas in Health Award
3rd November 2021
The Northern Bone Health Project has been named as a finalist at the 2021 Bright Ideas in Health Awards.
The collaborative project, which brings together the four northern Academic Health Science Networks, the Northern Health Science Alliance (NHSA), AMGEN, Interface and the University of Sunderland, has been shortlisted in the 'Outstanding Industry Collaboration' category.
The Northern Bone Health Project is an innovative approach to reduce the risk of older people breaking bones, which could save the NHS over £35 million, across the North of England, if fully scaled-out across the region.
The project identified patients at high risk of breaking bones, evaluated medications and treated those patients, where appropriate, with a bone-sparing agent to improve bone density.
Dr Sunil Nedungayil, Associate Medical Director (Healthy Ageing) at the NHSA, said: "It gives me immense pleasure as the clinical champion for the Northern Bone Health Project, to see that our work has been recognised and shortlisted for this year's Bright Ideas in Health Awards.
"As the NHS looks at preventive health, this project drives home the benefits of harnessing the strengths of multidisciplinary working, big data and digital technology to drive clinical innovation at a population level, while also having the ability to provide individualised care for the person affected by, or at risk of this debilitating long-term condition. This working template can be adapted to various other multi-morbidity conditions to enhance the quality and productivity of life as people age."
Professor Nicola Wilson, Deputy Chief Executive at the NHSA, commented: "On behalf of the Northern Bone Health Project multi-organisation Steering Group, which it was my honour to co-Chair, words can't describe how proud we are to have been recognised in this way. The Northern Bone Health Project is an exemplar of cross-sector, multi-organisation collaboration destined to improve the health of patients. Although our project formally completed earlier this year we continue our focus on ensuring its legacy, which includes the imminent launch of an interactive dissemination dashboard, and being recognised by our peers and shortlisted for a Bright Ideas in Health Award makes us feel like winners already."
The Bright Ideas in Health Awards, now in its 17th year, celebrate the achievements of individuals and teams working within the NHS, industry and academia, who have risen to the challenge improving services provided to patients, either through a technical innovation or through better service delivery.
The winners across 10 categories will be announced at the annual Bright Ideas in Health Awards ceremony, which will take place virtually on Thursday 25th November at 6pm. To see the full list of finalists, visit: https://brightideasinhealth.org.uk/finalists-2021/
Find out more about the Northern Bone Health Project here