Blog: Making Connections at BioJapan
The NHSA's Helen Cole summarises her recent trip to BioJapan as part of the MedCity delegation.
9th November 2022
The NHSA was delighted to be part of the MedCity UK delegation to BioJapan held in Yokohama from 12 – 14 October 2022.
MedCity and the Life Science Innovation Network Japan (Link-J) co-hosted the UK Life Sciences Symposium in Tokyo the day before BioJapan where each organisation in the UK delegation gave a 15-minute presentation to academics, companies, and stakeholders from the Japanese Life Sciences Ecosystem.
As the NHSA's Industry Partnerships Manager I presented a showcase of the assets and excellence in R&D and innovation from across our 24-strong member organisations in the North of England. With a focus on our Advanced Therapies and Digital Health activities, a number of audience members have subsequently contacted us with potential collaborative opportunities, which we are following up on.
Along with Ivana Poparic, from MedCity I then co-presented at the Link-J Global Life Science Session, focusing on our UK Advanced Therapies (UKAT) collaborations, to an audience with members from, Germany, Canada, Spain, Switzerland, and Finland. A number of these European Life Science Cluster Organisations were also represented at BioJapan, and I made new connections with potential European partners, which will be vital as the UK emerges into the post-Brexit economy.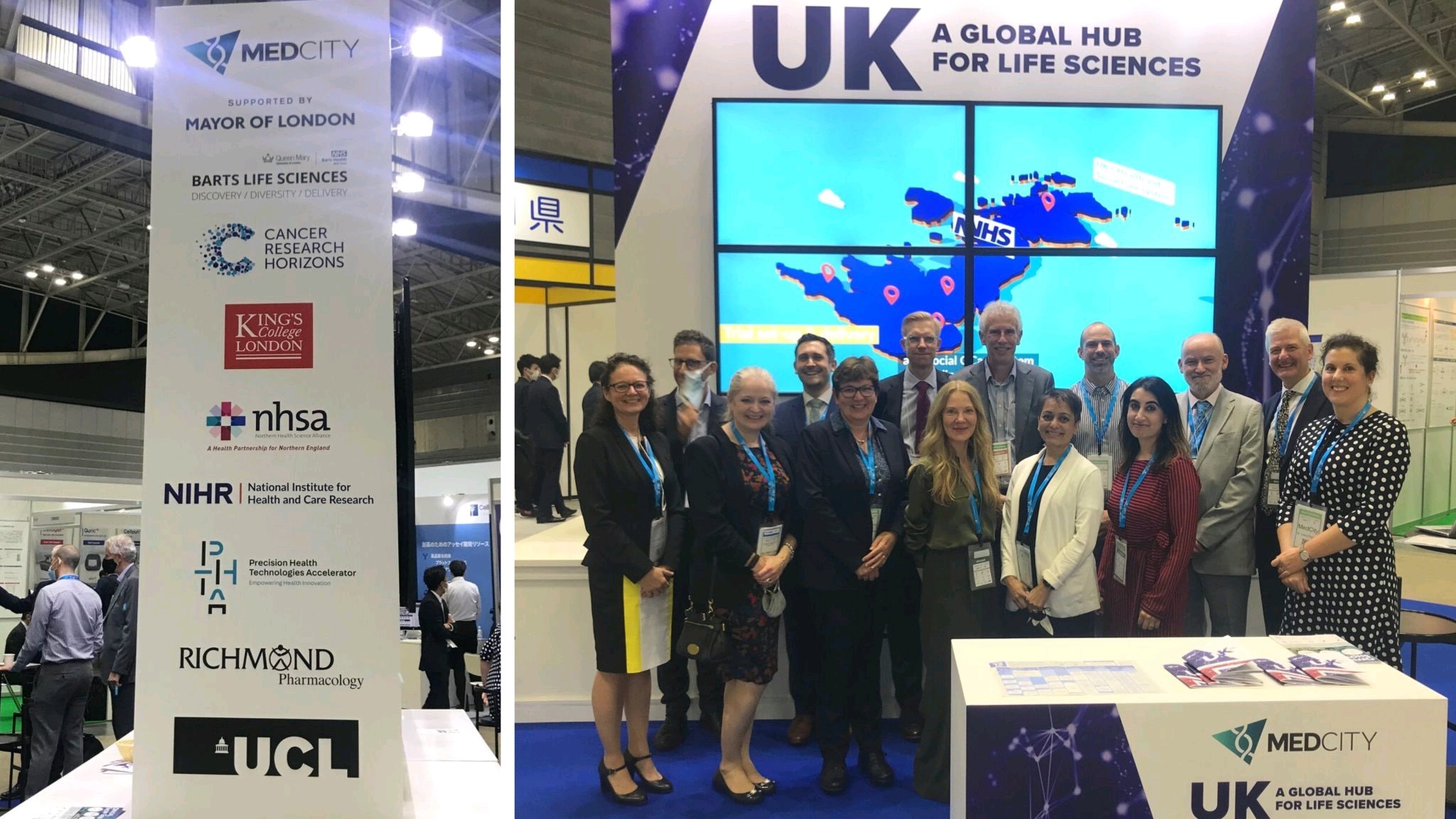 At BioJapan Professor David Lomas, Vice Provost (Health), University College London, and MedCity board member delivered an opening keynote speech for the UK and said:
"I am delighted to be able to give the keynote address at BioJapan 2022, as this is a fabulous opportunity to celebrate and build on historical links with Japan. The greatest challenges in health and life sciences require the complementary expertise of many partners, including academia and industry. By fostering further research collaborations between Japanese institutions and UK academics, we can continue to maximise the social impact of our work."
Throughout three days at BioJapan I made dozens of new contacts, raising the profile of our membership alliance and shared vision for life sciences in the North of England, not only with prospective Japanese partners, but also European, and even UK organisations, within our own delegation.
I am currently working through follow-up emails and collating slide decks and wish lists from overseas companies and academics seeking partnering opportunities with our members and ecosystem in the North of England. I will be presenting a summary of these to our Advanced Therapies and International Innovation Network members, having first pre-selected only the strongest prospects, with potential matching interests. Innovations and partnering interests in the fields of oncology, diseases of the central nervous system, genetic sequencing for diagnostics, DNA synthesis, and digital health solutions, all look promising at this stage.
Being my first time in Japan, experiencing Tokyo itself, and the people and culture surrounding me, was simply unforgettable. I hope to return one day – but may attempt to learn a few more words than "Konnichiwa" and "Arigato" first!