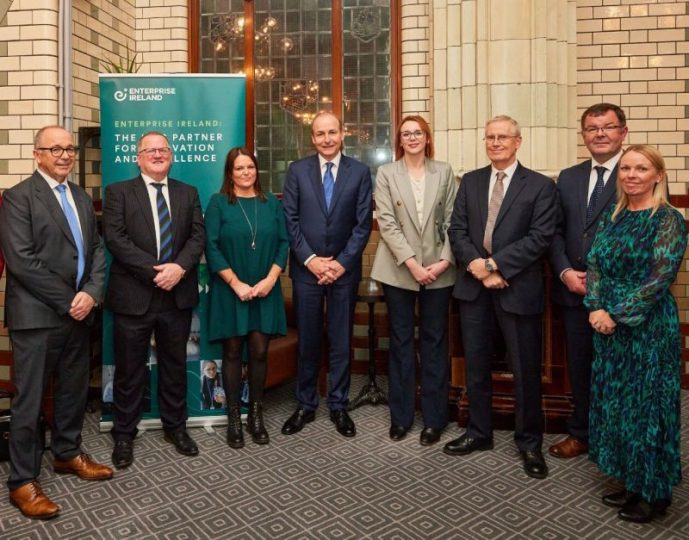 NHSA meet with Ireland Taoiseach Micheál Martin
NHSA meet with Ireland's Taoiseach Michael Martin to discuss closer ties with North of England's life sciences
11th November 2022
The Northern Health Science Alliance was delighted to bring together representatives from across the health and life sciences in the North of England to discuss the strengthening of ties with Ireland.
CEO Dr Séamus O'Neill and the NHSA representatives met Taoiseach  Micheál Martin following a knowledge-sharing roundtable with Enterprise Ireland.
A number of areas of mutual interest were identified that will be followed up with a view to partnership working. There was also an opportunity to discuss with Manchester Metro Mayor Andy Burnham and Liverpool Metro Mayor Steve Rotherham how this engagement fits with the broader political, economic and cultural ties between Ireland and the North of England.
Séamus was joined by Dr Kath Mackay, Director of Life Sciences at Bruntwood and NHSA board member, Professor Iain Bruce, director at the NIHR Manchester Biomedical Research Centre, and Professor Tom Walley Associate Pro-Vice-Chancellor for Clinical Research at Liverpool University.
Séamus said: "We look forward to deepening our relationship with Enterprise Ireland and the Consulate and strengthening links between Ireland and the North of England's health and life sciences. The Northern Health Science Alliance was delighted to be able to bring together such strong representation of the excellent work we are undertaking across industry, academia and the NHS."