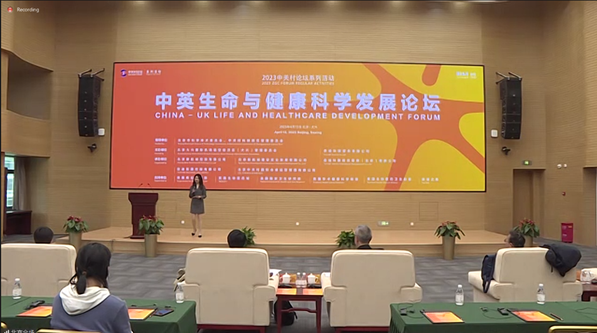 International success continues with UK/China healthcare forum
The UK-China Life Science and Healthcare Development Forum, April 2023
26th April 2023
Earlier this month, the NHSA and MedCity were delighted to join forces with TusPark UK to organise and deliver the UK-China Life Science and Healthcare Development Forum in a hybrid format (with an in-person audience in Beijing). This was one of the concluding international events in our Research England Development (RED)-funded project "Delivering Increased Wealth and Improving Health; a Unified Place-Based Approach" (2020-23).
The overarching aim of this knowledge exchange event is to attract more Chinese healthcare and biotech companies to set up, grow, and succeed in the UK, thereby generating quality employment prospects and economic growth in our regions.
Broadcast online through the Zhongguancun channel, the event attracted around 800 viewers. Combining this virtual audience with the in-person audience in Beijing, plus attendees watching live through TusPark's network of science parks and innovation presences in China, gave us fantastic impact, reaching over 1000 attendees.
Our agenda was devised to:
Inform the Chinese companies present of the soft-landing capabilities and support networks of MedCity and the NHSA
Give the Chinese companies legal knowledge about entering the UK corporately
Demonstrate success through a case study of one of China's most significant genomics companies that has come to the UK, Novogene.
We also welcomed two additional case studies from Essentia BioSciences and the Cell and Gene Therapy Catapult.
Some of the key take away messages for the Chinese companies included:
Legal perspectives on setting up in the UK from Dr. Michelle Chen of gunnercooke llp. Chinese companies have an array of decisions to make, from what kind of entity to register, through to choice of UK location and how to recruit staff (e.g. with a sponsorship license, to hire locals and retain talent). Chen stressed the important differences in UK labour protection laws compared with Chinese labour policies; emphasising the rights, obligations, and procedures to be respected, such as annual performance reviews and terms and conditions of employment. Data protection and intellectual property matters were also discussed, where, as the company grows, confidential information sharing may be required, to attract investors.
Support for innovators including: partnering with UK institutions to access NIHR infrastructure for clinical evidence development; connections through the AHSN network to support adoption of proven innovations into the NHS; and reach into the regional and national life science ecosystems through cluster support organisations such as MedCity (London), the NHSA (North of England), HIRANI (Northern Ireland), Midlands Engine Health (the East and West Midlands), amongst others. You can viewour joint report here.
Case studies from: Novogene, Essentia, BioSciences and the UK Cell and Gene Therapy Catapult all advocate for working with the UK and are open to follow-up discussions with interested Chinese companies who are considering doing the same.
The next steps for our own organisations include MedCity merging and becoming the life sciences team for London & Partners, increasing collaborative opportunities between the UK and China. The NHSA will be following up with UKRI China during their forthcoming visit to our region.
Our event co-organiser, TusPark, has been helping UK companies enter the Chinese market, and vice-versa, since it was set up in the UK in 2018. The UK division is an integral part of TusPark Holdings, China's largest technology ecosystem of over 300 presences in China, plus other international presences including in South East Asia. TusPark UK has worked with Innovate UK to deliver the first UK-China accelerator programme, themed on the Internet-of-Things, the first Zhongguancun ("silicon valley of China") subforum outside of China, a China-series of Life Sciences talks featuring leading Chinese companies in the sector, and more.
Our strategic partners in the event were: NIHR (National Institute for Health and Care Research) | The AHSN Network | Cell and Gene Therapy Catapult | Innovate UK | Department for Business and Trade | London & Partners |Novogene Europe | Essentia BioSciences | gunnercooke llp.