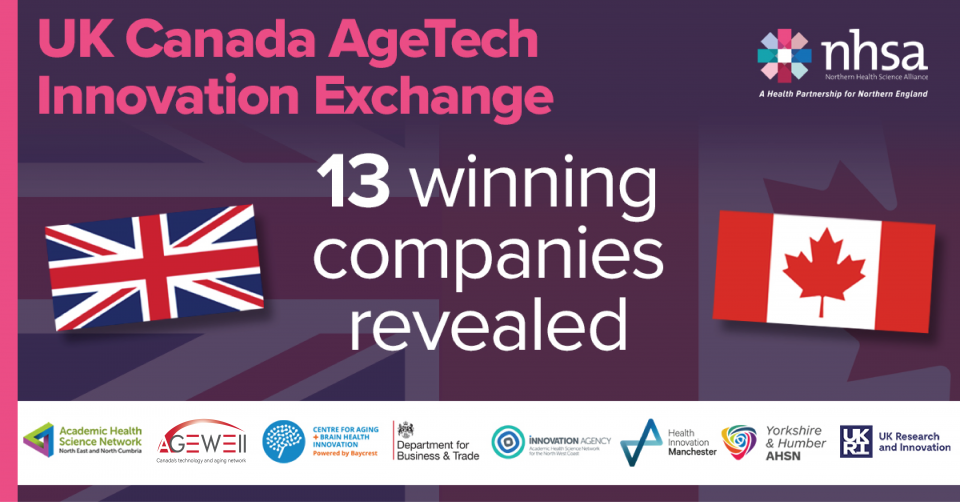 13 companies chosen for UK-Canada healthy ageing exchange programme
The UK/Canada AgeTech Innovation Exchange
11th May 2023
Thirteen innovative companies from across the UK and Canada have been selected to develop their healthy ageing solutions as part of an international innovation exchange programme.
The UK Canada AgeTech Innovation Exchange called on businesses with products that have the potential to improve the health and well-being of older people to apply to take part in an in-person international exchange visit.
Over 60 companies applied for a place in the coveted programme, with a total of eight UK companies and five Canadian companies invited to take part in the in-person exchange.  Over the coming months, they will be supported by leading experts with in-depth knowledge of the healthy ageing innovation ecosystems within each country, from national healthcare providers, academia and industry. An additional 31 companies have also been selected to benefit from a related virtual programme of support.
The successful UK companies are:
The Canadian companies selected are:
The companies all have an innovation that addresses one of the competition priorities areas: ageing at home; health care and health service delivery; cognitive and mental health; and autonomy and independence.
The Canadian companies will visit the UK in mid-June, to coincide with NHS ConfedExpo, and the UK delegation will then visit Canada later that month, to coincide with the COLLISION event in Toronto.
The programme is funded is funded by the UKRI Healthy Ageing Challenge, delivered by Innovate UK and ESRC and led by the Northern Health Science Alliance (NHSA) with the following partners: Department for Business & Trade; the four northern Academic Health Science Networks (AHSNs) from the UK – Health Innovation Manchester, Yorkshire and Humber AHSN, Innovation Agency (North West Coast AHSN), AHSN for the North East and North Cumbria; and AGE-WELL and Centre for Aging + Brain Health Innovation (CABHI) from Canada.
Dr Mandy Dixon, Executive Lead for Corporate Engagement and Cluster Development, who leads the Healthy Ageing Programme at the Northern Health Science Alliance (NHSA), said: "We are thrilled to have seen so much interest in this exciting new initiative which will bring two countries together to collaboratively work on solutions that address key healthy ageing needs. Improving the health and wellbeing of people as they age is a particularly challenging area for both countries, and we hope that our partnership working will see great innovations and ideas come to fruition and will also lead to further investment and growth in this sector."
Dr Alex Mihailidis, Scientific Director and CEO at AGE-WELL, Canada's technology and aging network, said: "Canada and the UK have much in common with respect to the challenges and opportunities around aging. AGE-WELL supports numerous innovative Canadian companies in AgeTech, and we are excited to see the potential of such companies being made available to older adults in the UK through this Innovation Exchange. Similarly, we look forward to the innovation that selected UK companies will bring to Canada. This exchange builds on a track record of engagement and collaboration between AGE-WELL, CABHI, the AHSN Network and the NHSA and holds great promise for future impact in both countries."
Dr. Allison Sekuler, President and Chief Scientist at CABHI, said:
"We're proud to support the UK Canada AgeTech Innovation Exchange, fostering the growth of innovative companies addressing older adults' needs worldwide, and building on CABHI's longstanding national and international partnerships in the aging innovation ecosystem. This collaboration will enrich lives in Canada, the UK, and beyond, and highlights the value of international partnerships to accelerate innovation. We are excited to see the positive impact these companies will have through the Exchange, and through our joint commitment with all the partners to advance healthy aging solutions globally."
Chris Ward, Innovation Lead, UKRI Healthy Ageing Challenge, said: We're really encouraged by the level of engagement and the quality of innovation that has been identified by this exciting new international exchange programme. The high levels of collaboration and aspiration being created between the expert teams brought together across the UK and Canada is exemplary. We hope this shared initiative will stimulate novel insights, new commercial opportunities and significant onward investment to enable inspiring technologies to positively transform our ageing experiences.
Find out more about the exchange programme here
Company biographies
Abtrace is a health tech company with a team of doctors and data scientists combining deep machine learning expertise and medical experience to build clinical algorithms for GP Surgeries serving over 2.5 million patients in the UK.
Bridgit Care is Microsoft Partner, DIT Top 100 Business, and Social Enterprise using digital technologies to support carers across the UK. They have reached over 500k carers through their outreach campaigns and provide a number of services to help identify and support carers. They also provide opportunities to innovate how health and social care is delivered, while reducing system demands.
GaitSmart data driven rehabilitation
GaitSmart is a sensor based tool that measures gait kinematics and presents this in an easy to understand format for everyone to understand. This data is used to generate an AI driven personalised exercise programme to address the muscle deficiencies identified from the gait assessment. Collectively, the unique solution informs diagnosis and provides a personalised exercise plan without the need for a highly skilled physiotherapist. The report is available immediately after the 10-minute test.
Isla Remote Monitoring solution
Isla is an innovative health-tech company, offering a secure platform for the capture, storage and sharing of photos, videos and structured assessment forms between patients, carers and clinicians. This enriched data creates a visual record of a condition over time, allows for remote monitoring and assists clinical decision-making.
"KiActiv® Health rethinks exercise and makes everyday movement a medicine for the prevention and management of disease, and supports older adults to age well. KiActiv is a digital behaviour change therapy that delivers improved health outcomes, quality of life and social impact at scale.
Memory Lane Games delivers professionally-curated, inclusive reminiscence and speech and language games to over 90,000 users and is available to individuals as well as assisted living and care environments. Designed for those living with cognitive decline such as dementia, the app is simple and frustration free (error-less learning).
Tribe provides a platform for people in the local community to seek support, find things to do, or connect with others. Volunteers and activities such as events, groups, and clubs that cater to their needs or interests are also accessible through Tribe. Users gain access to a wide range of local support that aligns with their preferred lifestyle, promoting independence and enabling them to continue living in their home community for longer. This support includes paid and voluntary options and access to events, groups, and other activities.
Ufonia's mission is to use automation to increase capacity in healthcare systems. They have built Dora – an AI enabled autonomous clinical assistant. Dora telephones patients and conducts a routine clinical conversation in a similar way to a human clinician. Dora doesn't require patients to use any technology, they simply have a normal phone call. This means it is a highly accessible way for patients to receive reliable, convenient and consistent care.
The Canadian companies selected are:
AltumView is an AI company in Vancouver, Canada. It has developed the Sentinare smart activity sensor for senior care and remote patient monitoring. The sensor has a build-in AI chip, and uses the latest deep learning algorithms to monitor the activities of people, collect health statistics, and send alerts when emergencies such as falls are detected.
CareTeam's innovative digital health platform is designed to flexibly enable care planning, collaboration and coordination to better the lives of health professionals, patients and their families and achieve the best possible outcomes and experiences, specifically focused on ageing, multimorbidity and complex chronic care. 
ImaginAble Solutions is a social impact company headquartered in Hamilton, Ontario that creates assistive technology to improve the quality of life for people with disabilities. The company's international award-winning product is Guided Hands, an assistive device that enables people with limited hand mobility to write, paint, draw, and access technology through touch-screen devices and keyboards.
Tenera Care is a highly precise Indoor Positioning System (IPS) platform that utilizes wireless technology, wearable devices, and a mobile-app to monitor people and assets in real-time. The platform serves as an advanced nurse call system, meeting the mandatory requirements for long-term care facilities, this is just one of Tenera's functions.
Tochtech Technologies is an award-winning digital health tech company, on a mission to enable healthcare and senior care providers to improve safety and wellness care through timely intervention and evidence-based practise, while also enhancing staff efficiency. Our innovative smart care products empower care teams with real-time information, AI-powered analysis and prediction methodology, and decision support tools to improve staff efficiency, and reduce missed care incidents.