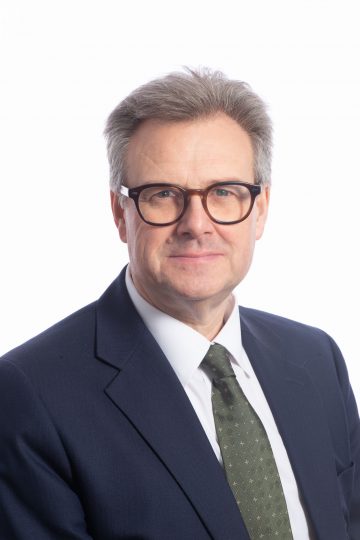 NHS leader appointed to health alliance board
Northern Health Science Alliance appoints Professor Phil Wood to board of directors.
16th November 2023
The Northern Health Science Alliance (NHSA) has welcomed a leading NHS Chief Executive to its board of directors.
Professor Phil Wood, Chief Executive at The Leeds Teaching Hospitals NHS Trust, will attend his first NHSA board meeting on 23 November representing the alliance's NHS Trust members.
His extensive leadership experience within the health system will bring a wealth of benefits as the NHSA continues to strengthen its regional, national and international reputation as an exemplar health and life sciences cluster.
He was elected to the role by the NHS member organisations and will also attend the NHSA Council, which has representation from the Deans of the North's research-intensive universities as well as the Chief Executives of its NHS Trusts.
Phil said: "I am really pleased to have been given the opportunity to join the Board at the Northern Health Science Alliance. The work that the NHSA does is invaluable in developing and nurturing partnerships between healthcare and academic organisations. Such partnerships are integral to the work that we do at Leeds Teaching Hospitals NHS Trust where we strive to be at the forefront of research and innovation to improve patient care. I look forward to being able to share my own skills and insight towards furthering the work of this fantastic organisation."
He joined Leeds Teaching Hospitals in 2002 as a Consultant Immunologist and during his career Phil has worked in many operational and strategic roles including Clinical Director for services such as Pathology and Oncology and Medical Director for Strategy and Planning.
Phil was appointed Chief Executive in February 2023. Prior to his appointment as Chief Executive in February 2023, Phil was Chief Medical Officer for the Trust and Deputy Chief Executive.
Phil has held a number of regional roles including Senior Responsible Officer for the rollout of the Covid-19 vaccination programme in West Yorkshire, one of the most successful programmes in the country, and Chair of the West Yorkshire Vascular Board. He is currently Chair of the North East & Yorkshire Genomic Medicine Service Board and a member of the national Genomics England (GEL)/NHSE Joint Board.
An Honorary Professorship in Healthcare Leadership from the University of Leeds was awarded in November 2022, recognising Phil's leadership contribution across research, innovation, education and training.
The NHSA is a health research partnership between the leading NHS trusts and universities in northern England. It works together with its members, industry and Government to broker research collaborations, build expert networks, attract investment, and provide a unified voice for the region's health research system.
Professor David Burn, chair of the board for the NHSA and Pro-Vice-Chancellor for the Faculty of Medical Sciences at Newcastle University, said: "We are delighted to welcome Phil to our board. Phil's experience within the NHS, both from a clinical and leadership perspective, will prove invaluable as the NHSA continues to mobilise the North's world-leading health and life sciences assets for the benefit of the people and the economy. We are excited to work with Phil and utilise his skillset to shape NHSA activity in the years ahead."
Dr Séamus O'Neill, NHSA Chief Executive, said: "A central part of the NHSA's remit is to bring people and organisations together across the North to make an impact on a wider scale. That requires a specific approach to our work and it is already clear that Phil's vision and approach, as well as his expertise, will help us to further our ambitions of a healthy and prosperous North powered by excellence in research and innovation."
Professor Phil Wood replaces Dame Jackie Daniel, chief executive of Newcastle upon Tyne Hospitals NHS Foundation Trust, on the NHSA board.