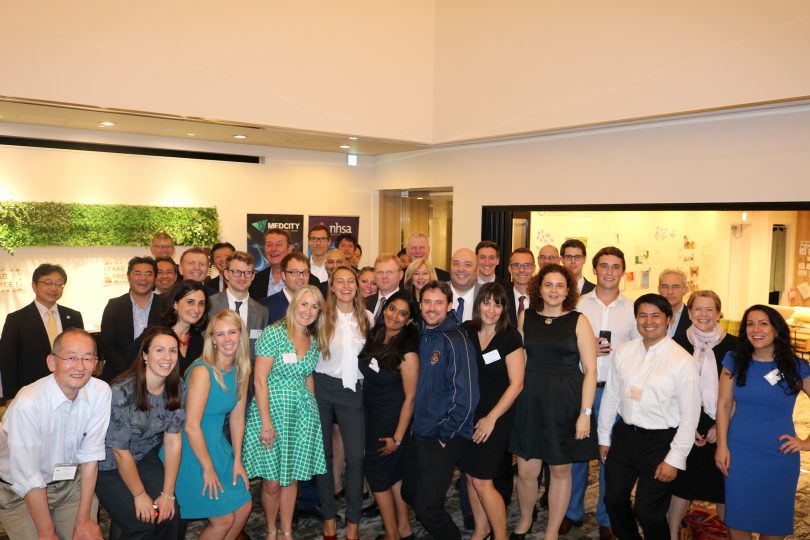 UK Life Sciences delegation showcases its strengths in Japan
THE biggest UK life sciences delegation to head to Japan in ten years was in Tokyo today to showcase the sector's strengths and foster collaborations
13th November 2017
THE biggest UK life sciences delegation to head to Japan in ten years was in Tokyo today to showcase the sector's strengths and foster collaborations; led by regional cluster organisations MedCity and the Northern Health Science Alliance (NHSA), with the Department for International Trade.
Business Minister Lord Prior, with over 40 experts from institutions; including Imperial College London, University College London and Newcastle University; leading biotech companies, Imanova and Orchard Therapeutics; and the Cell and Gene Therapy Catapult; attracted an audience of over 150, to highlight the UK's successful university spinouts, digital health in the NHS, and academic-industry partnerships.
Tomorrow, they are heading to Asia's biggest biosciences conference, BioJapan, in Yokohama, to meet with more Japanese businesses and promote the UK as open for investment, research, and business. The UK is the fourth largest market for life sciences investment from Japan; particularly in oncology, immunotherapy and ageing, and has a strong collaborative research history with more than 8,000 researchers traveling between UK and Japanese universities every year.
The delegation aims to build on current collaborations between the two countries, including:
Takeda is collaborating with GemmaDelta, a London-based immunotherapy company, to discover and develop new immunotherapies with the aim of treating a broad range of cancers, including solid tumours, and autoinflammatory diseases
Wellcome renewed its commitment to the Japanese Global Health Innovative Technology fund (GHIT) in June, which aims to develop live-saving health innovations for some of the world's poorest people.Wellcome, the Japanese government, private companies and the Bill & Melinda Gates Foundation collectively committed over US$200 million to support GHIT's next phase of work.
Fujifilm Diosynth Biotechnologies is expanding its process development capabilities with a £7m investment into labs at Billingham in the North East of England.
Pharma company, Eisai has a neurodegenerative disease drug discovery research collaboration with University College London, which to date has delivered four research projects focussed on key areas of interest for disease intervention including: mitochondrial dysfunction, neuroinflammation and protein misfolding and aggregation.
The Medical Research Council and the Japan Agency for Medical Research and Development (AMED) has signed a Memorandum of Cooperation to advance UK-Japan partnership in medical research and development.
Business Minister Lord Prior, who is instrumental in developing the Government's Industrial Strategy and recently launched the Science and Innovation Audits highlighting the strengths of regions across the UK, said:
"Japan is one of the UK's most important science and research partners which is why we are taking the largest ever delegation to the BioJapan conference, reinforcing our commitment to international collaboration to solve some of greatest medical issues of our time.
"We have made the biggest increase to Government funding for research and development since 1979, and through our work with industry partners on the Life Sciences Industrial Strategy, we are ensuring the UK's expertise in this sector continues to go from strength to strength."
Dr Liz Mear, Northern Health Science Alliance board member and CEO of the Innovation Agency, said: "Health Innovation is one of the key strands of government Industrial Strategy and trade delegations such as this offer global industry the opportunity to engage with the best in Life Sciences.
"Life Science hubs such as the NHSA and MedCity were recognised in the Life Sciences Industrial Strategy as driving growth across the country and we're delighted to be bringing our members to BioJapan to explain exactly why the UK is leading the world in health innovation."
Sarah Haywood, CEO, MedCity said: "This delegation of leading health scientists and industry highlights the strength of our ecosystem, and the opportunities for Japan to do research, collaborate, and invest in the UK.
"The UK is currently the fourth largest market for life sciences investment from Japan, particularly in oncology, immunotherapy and ageing, and we value our natural partnership. With over 5,000 life sciences businesses, four of the world's top ten universities, and world-leading research centres, we want to spread the message that even with the UK's current political uncertainty, we remain open for science."
ENDS
Media Contact
For more information, contact Hannah.Davies@theNHSA.co.uk, 07342882383.
EDITORS NOTES
About NHSA
The Northern Health Science Alliance Ltd (NHSA) is a health partnership established by the leading Universities and NHS Hospital Trusts in the North of England to improve the health and wealth of the region by creating an internationally recognized life science and healthcare system.
The NHSA £20m Connected Health Cities project will be delivered to integrated data sets across health and social care in four major city-regions across the North of England. The vision is for each of the four city-regions to establish a secure data repository which integrates health data across primary and secondary care and links to social care data so that care planning, commissioning and delivery might be better supported.
The NHSA links eight universities and eight NHS Teaching Trusts with the Academic Health Science Networks (AHSNs) for the North. Together the Alliance and the four Northern AHSNs cover a patient population of over 15 million people. The NHSA acts as a single portal bringing together research, health science innovation and commercialisation to provide benefits for researchers, universities, hospitals, patients as well as commercial partners.
For more information on the NHSA visit www.theNHSA.co.uk
About MedCity
MedCity exists to promote and grow life sciences investment, entrepreneurship and industry in The Golden Triangle of Cambridge, London, Oxford and the Greater South East.
A collaboration between the Mayor of London and the five Academic Health Science Centres in the region, MedCity acts as a front door for industry, researchers and investors looking for partners, infrastructure and expertise. From drug discovery to devices, diagnostics and digital health, MedCity supports academia, life sciences and healthcare companies – large and small – to do business in the region.
MedCity raises awareness globally of the region's rich life sciences cluster, which has more than 3,300 life sciences companies, four of the world's top ten universities, 19 of the top 20 global pharmaceutical companies and world class research centres including The Francis Crick Institute, Harwell Oxford, and The Sanger Institute.
Find out more at MedCityHQ.com or on Twitter @MedCityHQ