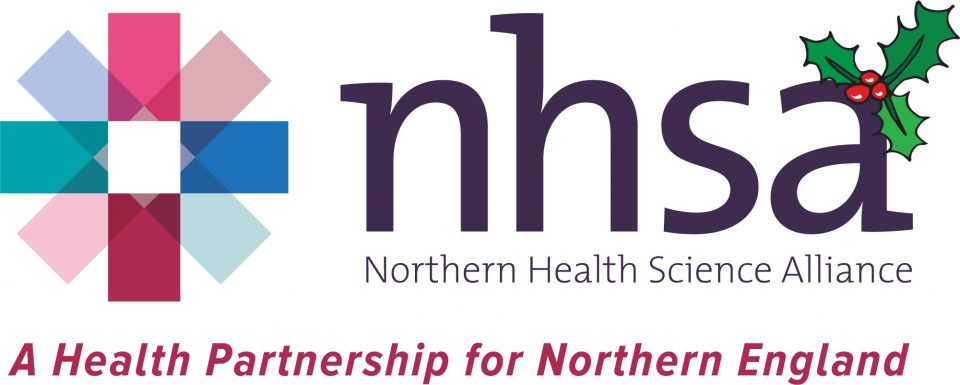 The Northern Health Science Alliance's 12 Days of Christmas
Season's Greetings from the Northern Health Science Alliance
18th December 2017
As we draw to the end of the 2017 it's customary for the Northern Health Science Alliance to look back over the previous 12 months and reflect on our achievements, in our own special way, by providing a snapshot of the year through the medium of the 12 days of Christmas.
2017 has been a phenomenal year for the NHSA and I want to thank all those colleagues from across industry, academia, the NHS, the third sector and those in the civil service who have worked with us to make it such a successful 12 months.
I also want to take this opportunity to thank the NHSA team of Hannah Davies, Nicola Wilson Shirley Hannan, Suzie Ali Hassan and Sarah Jones for all their support, energy and commitment to the NHSA cause.
Merry Christmas and I hope you enjoy our very own Northern Health Science Alliance take on the traditional 12 days of Christmas!
One day of action – bringing together over 200 leaders in health science across the country to celebrate health science in the North with two ministers.
Two years into delivering Connected Health Cities– our £20m government-funded flagship health data programme.
Three policy papers – the NHSA was named in the Industrial Strategy, Life Sciences Industrial Strategy and the Life Sciences Industrial Strategy Sector Deal.
Four 3* Reference Sites in Active and Healthy Ageing – The NHSA coordinated a bid across the North of England in Active and Healthy Ageing, resulting in four 3*reference site status awards from the European Commission to our four Academic Health Science Networks.
Five Connected Health Cities centres – leading transformative health data programmes with a central hub and regional centres in Manchester, North West Coast, Yorkshire and the North East and North Cumbria.
Six experts invited to represent their Northern organisation in Japan – the NHSA led a delegation to Japan which saw six North representatives attend BioJapan.
Seven comment pieces backing the NHSA's work in the national media.
Eight cities across the North of England – the Northern Health Science Alliance works across the great Northern cities of: Newcastle, Durham, York, Leeds, Sheffield, Manchester, Liverpool and Lancaster.
Nine countries across the globe – this year the NHSA has visited: USA, Australia, Spain, Sweden, Germany, Dubai, Japan, the Netherlands, and of course the UK!
Ten Downing Street – the NHSA was invited to 10 Downing Street  for the launch of the Life Sciences Industrial Strategy Sector Deal.
Eleven international bio science conferences attended to represent the North – including: Dpharm, UK Pharmacogenomics and Strat med Network Conference, Informatics for Health, BioTrinity, Digital Health World Congress, BIO-US 2017, NHS Expo, MedTech Conference, BioJapan, Bio-Europe 2017 and Pharma Integrates.
Twelve international cities: attending conferences, meetings and events for the North of England – we've been to: Amsterdam, Melbourne, Boston, San Diego, San Francisco, San Jose, Tokyo, Barcelona, Berlin, Stockholm, Dubai and Yokohama among others!
Have a wonderful festive period!


Dr Hakim Yadi, Chief Executive Officer, NHSA