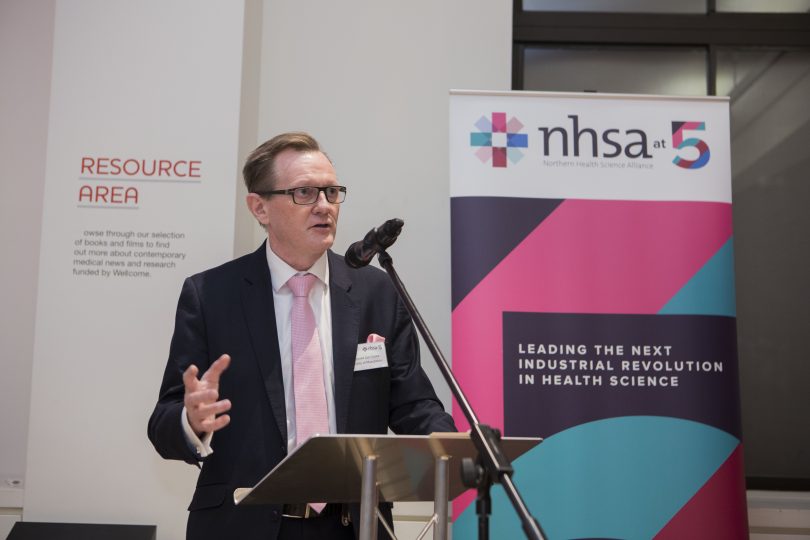 Professor Greer to become VC of Queen's University Belfast and step down as NHSA chair
Professor Greer will step down as chair from the Northern Health Science Alliance as he takes up a new role in Northern Ireland
26th January 2018
Professor Ian Greer, the chair of the Northern Health Science Alliance (NHSA), is to step down from the organisation following his appointment as President and Vice-Chancellor of Queen's University Belfast.
Dr Hakim Yadi, Chief Executive of the NHSA said: "I am delighted for Ian, his appointment recognises the work he has done, both at the NHSA as well as the important role he has had as Vice-President and Dean, Faculty of Biology, Medicine and Health at The University of Manchester.
"It has been a pleasure to work with and learn from Ian over the past four and half years. He will be sorely missed by the NHSA's management and the Alliance as a whole."
Professor Ian Greer has served as the NHSA's chairman since the company's inception in 2013. He  led the development of the Alliance through governance and leadership of the NHSA Board and Council which includes the Chief Executives of eight NHS teaching Hospitals, the Deans of the seven other Medical schools and the Chief Executives of the four Northern Academic Health Science Networks.
Professor Greer helped establish the NHSA as an internationally and nationally recognised health innovation ecosystem, most recently he represented the North of England on the Steering Committee for Sir John Bell's Life Science Industrial Strategy.
Over the next few months the NHSA will work to elect a new Chair from the Alliance members and will work with Professor Greer over the course of the next six months to hand over management and leadership responsibilities to the incoming chair.