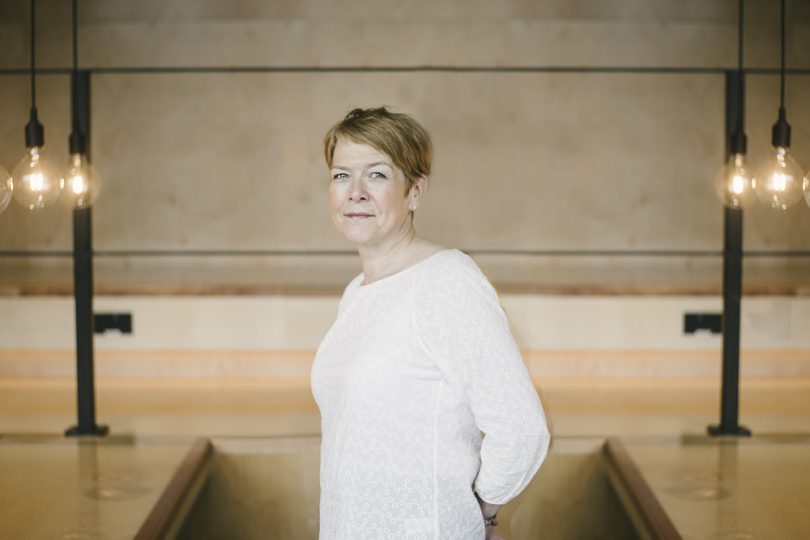 NHSA Insider: April 16
Nicola Wilson NHSA Chief of Staff on the importance on personal development and the "Women into Leadership Healthcare" conference
16th April 2018
 Colleagues, it has been a few weeks since my last 'Insider' piece, I've had time for a decent break over the Easter period, and I hope that you managed to enjoy some R&R too.
On that note, I have been reflecting on an event that I recently attended, and how time out for CPD activity can be a tonic in itself. It feels like everyone I come into professional contact with has a lot on their plate. Whether this is the size of their work/case load, their level of responsibility, rapidly diminishing budgets or organisational change to match 'new world' ambitions that is cited as the reason, or a combination of all of the above. The reasons have a common denominator – how we respond, adapt and flex to deliver. Here at the NHSA, we are not immune to these new world demands, and we pride ourselves on the 360 degrees development of our people. Sometimes, as was the case recently, I have contemplated averting the 'non-essential' to buy myself more time for the 'essential'. Sound familiar? So, here's how I recently re-discovered my 'reflective-practice' background by taking time out to learn, discuss, reflect and apply.
In my last piece my focus was around the pleasure and pride that I take working alongside many smart, dynamic and inspirational women. You can read my last 'Insider'  here, and the vibe around International Women's Day continued in my attendance of the 'Women into Leadership Healthcare' conference in London on the 21st March. For anyone who hasn't attended the WiL annual events, held conveniently at a number of venues around the UK each year, I can whole-heartedly recommend it to you.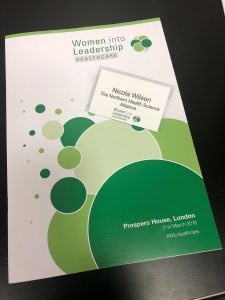 I was feverishly tweeting some of the stand-out moments of the day. Firstly, this powerful statement from the Chair in her opening comments, which really resonated with me and mirrored the sentiment behind my last Insider piece when I spoke to the women coming up behind us "although right now is our watch, we are waiting for you to take up the helm." Anyone involved, at any level, in tackling the threats that face our health systems and the health and wellbeing of our citizens will understand me when I say that what we do is so much more than just a job.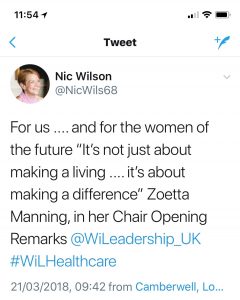 Then there was the subject of finding your voice. Under the tutelage of the fantastic Cath Baxter, I participated in a session aimed at re-discovering the enjoyment of speaking publicly, utilising Cath's tips and techniques for improving articulation and confidence. When you have worked in this space as long as I have, there is the risk of complacency and bad habits setting in, right? Ok, I will own that one! Cath's session was a superb blend of practical 'hands on' and educative, highlighting how much of a difference nuanced articulation can make to delivery. This session started a theme that ran throughout the day, of sharing tangible, transferrable knowledge that can directly improve how I do what I do.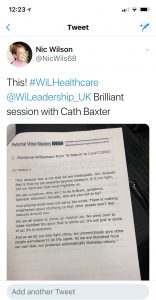 Similarly, another great session was Purdy Smith's take on the impact of resilience and mental wellbeing on our performance, particularly during times of intense stress. Purdy is Project Lead at 'The Wellbeing Project' and walked us through the facets of pressure vs. stress, in order to support our optimum functioning. Some of what Purdey presented was a refresher back to my days of working as a CBT practitioner and teaching the CBT practitioners of the future, but sometimes listening and learning acts as a timely 'intervention'. Having the time and space to participate in the session and listen to Purdey's insights enabled me to 'regroup' somewhat, on how best to maintain an optimal state of performance.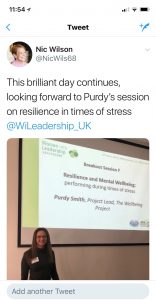 There are, no doubt, a whole host of CPD activities out there for us to use. For me, the measure of a successful day is when the time I have taken to attend is rewarded with tangible tools to add to my skills set. Memo to self: CPD is good for the soul. For further information on Women into Leadership Healthcare events, please visit their website here.
Next week, my schedule includes a visit to Alder Hey's Innovation Hub for a meeting with the team, which as Liverpool born and bred I am shamelessly looking forward to. I look forward to updating you on that and a host of further activity in my next 'Insider' in a couple of weeks' time.
You can follow Nicki on Twitter @NicWils68 and the NHSA @The_NHSA