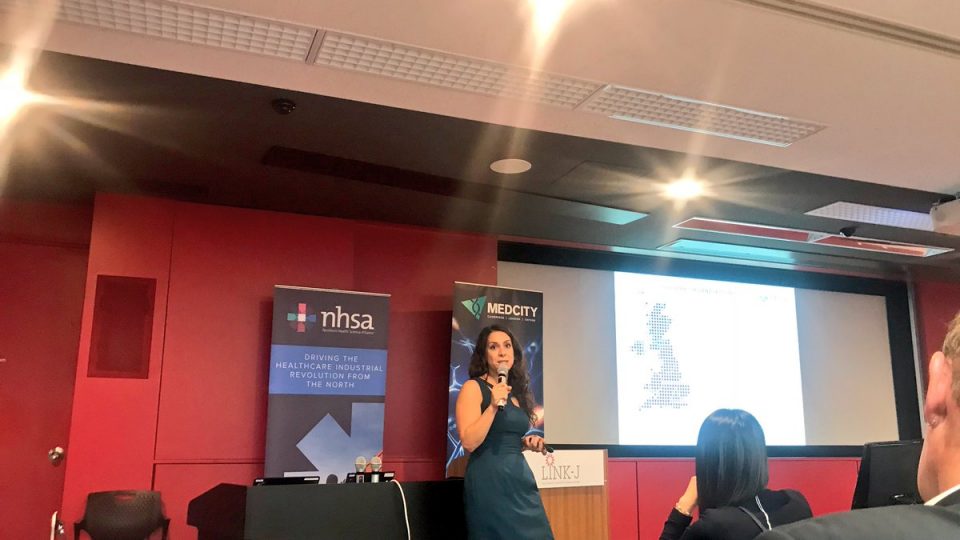 Day one: UK Trade delegation to Japan
Head of External Affairs Hannah Davies blogs from BioJapan
9th October 2018
Our first day working on Japanese soil saw the Northern Health Science Alliance hold the UK symposium with MedCity in a sunny Nihonbashi in Tokyo. We were thrilled to have over 60 senior delegates from Japan's life sciences ecosystem to join us in hearing about the latest research from the UK and the ways in which the Japanese, and international, delegates can work with us.
Introductions from Aki Soyama CEO of Link-J, our hosts, Sarah Haywood, CEO of MedCity and Suzie Ali-Hassan, Head of Corporate Engagement, of the Northern Health Science Alliance, strengthened the connections between the two countries and highlighted the opportunities of working together. We were honoured to have Setsuo Morishita Director of the Japan Bioindustries Association to welcome us to Japan.
It was also interesting to catch up with what's happening across the UK. Professor Joanne Hackett of Genomics England outlined the history of the organisation and the staggering achievements it has made so far.  She said: "In the UK we have this beautiful thing called the National Health Service where you can follow patients longitudinally across their whole life.". Central to the success of Genomics England is its backing at the highest level. As Professor Hackett commented: "We were set up by the Department of Health and Social Care – it is a government-supported initiative."
And it is an initiative that has seen over 80,000 genomes sequenced already in "a phenomenal data set", and not only that but, as was recently announced, the UK's new health secretary Matt Hancock announced the UK will sequence five million genomes in five years.
Professor Mimoun from the Sheffield Institute for Translational Neuroscience at Sheffield University, an NHSA alliance member spoke on their work looking at gene therapy. SITran's work using human cells for disease modelling and drug screening is ground-breaking, including using skin cells to convert in neurons and to study the disease mechanism. He also highlighted the strong links with industry including Pfizer and Astra Zeneca. This includes gene therapeutics, using virus as carriers to introduce missing proteins, or to silence abnormal genes and gene editing. He listed examples of translational programmes such as gene therapeutics for MND and SMA.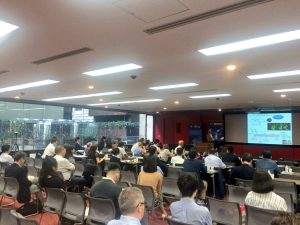 Academics from Imperial College, London spoke on their offering for international life sciences. Dr Fiona Pereira called systems biology a "molecular orchestra", saying ' if you want to listen to the symphony you don't listen to one instrument at a time'.
Hearing from some of the UK company offerings was fascinating. Random 42, a virtual-reality company specialising in drug launches (650 drug launches so far) was enlightening. Richard said: "We've been going 26 years and worked with 24 of the top pharma companies in the world and we're looking to work with more.
"We work with drug companies who come to us and explain what their drug does. Our animators will then animate how the drug works to create an amazing image."
Dr Namshik Han from the School of Clinical Medicine, Milner Therapeutics Institute at the University of Cambridge, gave a fascinating talk on Artificial Intelligence (AI) in healthcare – and how it is becoming a powerful tool in this area. "It is becoming a new hope for pharmaceuticals." he commented.
After a chance to catch our breath we attended the LINK-J Life Science Network Clusters event.  Here seven minute talks were given by each global life sciences community represented – moving from West to East. The importance of the UK taking part in this, and to have the North's excellent research ecosystem join as a part of UK PLC, was clear. And with the UK getting our act together as one global life sciences hub shows that we're serious and open for business in the life sciences.
NHSA's scope across eight research intensive universities, eight NHS teaching trusts and four Academic Health Science Networks across the North's 15 million population was highlighted by NHSA Head of Corporate Engagement Suzanne Ali-Hassan.
The success of the day was recognised by the New York City Economic Development Corporation delegate who also recognised the excellence of the UK's life sciences offering as we travelled across the global life sciences infrastructure hearing from different organisations.
It was powerful to hear from hubs from across the world – and it also brings home just how excellent the life sciences offering is in the UK. Our amazing universities, biomedical research centres,  the proximity of our different great cities to each other mean that we have a unique offering globally. We shoud be shouting about it across the globe – and thanks to the joint-working of the Northern Health Science Alliance and MedCity in Tokyo today we're making sure that we are.