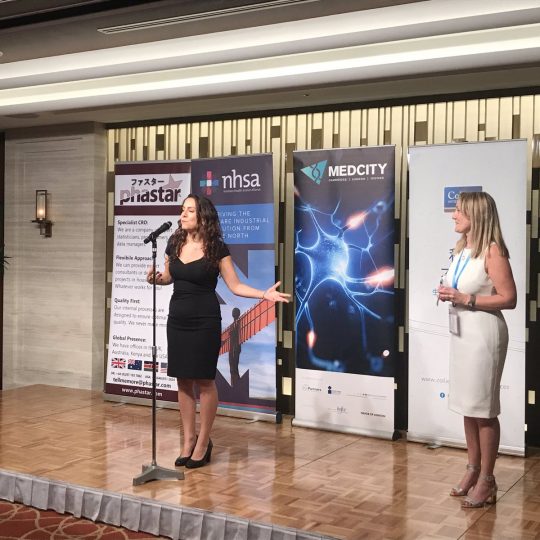 Day three: BioJapan blog
Head of External Affairs Hannah Davies blogs from BioJapan
12th October 2018
Creating new partnerships within a different continent can be challenging but, when you work in partnership with an engaged organisation such as the Japanese Bioindustry Association (JBA), the situation is made smooth.
The UK reception at BioJapan with MedCity and NHSA was proof of that with over 150 attendees including representatives from the most senior level of the JBA. Attendees were international with delegates from Germany, Lithuania, France and Taiwan among many others.
Northern Health Science Alliance were delighted to speak at the event to thank attendees – who took full advantage of the informal networking. We can't wait to see the results.
The following day saw another packed schedule at the conference centre. Head of Corporate Engagement, Suzie Ali-Hassan, met with a number of fascinating companies who have found a way to increase the number of drug candidates derived from antibody screening using Artificial Intelligence. We'll keep you updated on any outcomes from this.
Following the close of the conference for the day we went on to an international medical clusters reception where we were addressed by the Executive Director of the JBA, Yoshiaki Tsukamoto, who offered to move the UK to Japan when we leave the EU.
After such a busy day it was fantastic to unwind in a 'battle of the bands' where the UK took on Japan in a band duel. Japan, it saddens me to say, were undoubtedly the better band. We did however share musicians in the spirit of the occasion – Japan borrowing US delegates to play piano and guitar – and Ryan Lewis of SOG Limited who, as a genuine Liverpudlian, gave added authenticity (and genuine talent) to a rendition of 'Let it Be'.
The hidden talents of BioJapan – including three Japanese delegate saxophonists are considerable! And we're looking forward to the final day of the conference.