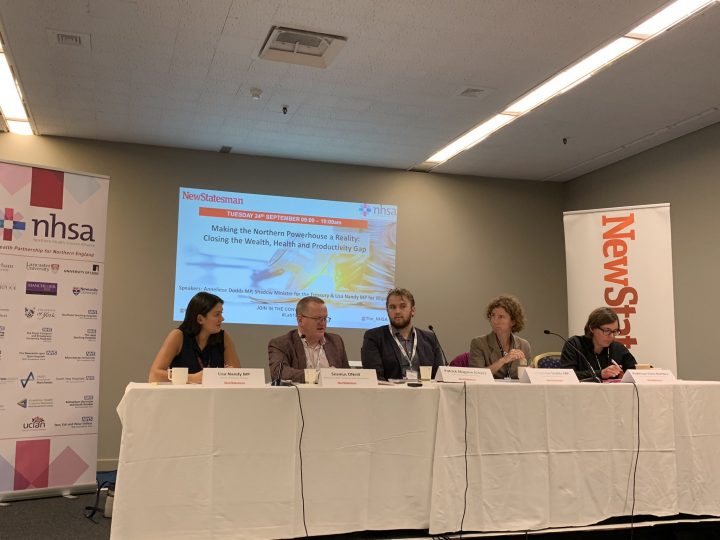 Top ten takeaways from conference season for the North of England's life sciences
As the conference season ends with the Scottish National Party this week. Our Head of External and Public Affairs, Hannah Davies, has taken the opportunity to look back at some of the Northern Health Science Alliance's key takeaways from the party conferences.
18th October 2019
For a Britain that works you can't ignore the North, the South East is saturated and the North offers huge opportunities to grow the country, but words aren't enough to deliver on the promise it offers to the UK – it must be backed by investment.
Likewise, government must see the NHS as an opportunity for investment, thinking of it as a burden fundamentally misses the point of one of the UK's biggest employers and its potential for good.
Identifying NHS Trusts as anchor institutions in their areas. A local NHS's position within its community offers huge potential for good. The NHS is a major employer with the potential to train, recruit and invest in local communities, it is where ground-breaking clinical trials are carried out, owns huge swathes of land, procures huge amounts of equipment and skills beyond its remit in medicine.
Health isn't just the NHS and devolved administrations, local government, regional bodies such as local enterprise partnerships and national bodies need to recognise that and work to grow the health of its population.
For universities to flourish and to maintain their world-class status, they need to remain a part of international research collaborations, with easy, free movement of academics and skilled support staff.
Poor health, particularly in the North, has a devastating impact on UK productivity. No one party has set out clearly how they will address the growing health inequality gap between the richest and poorest in society – this is of uttermost importance to the North whose scale of health inequalities is unparalleled.
Research funding – universities in the UK are fundamental to the research success of our country and this must grow following Brexit making sure that the UK has access to European and international research networks.
Labour's publicly owned pharmaceutical company – the key industry bodies representing the pharmaceutical industries are sceptical at best. There is further thought from those involved in life sciences that the cross-collaboration between hospitals, universities and industry and the necessity of all of those working together isn't properly understood by the Labour government.
Hancock's Hospitals – the key announcement of a huge programme of hospital building at the Conservative Party Conference. This was broadly welcomed although again there was considerable scepticism that these were all new hospitals, and in fact that enough funding was allocated to build them.
A successful functioning NHS is key to keeping the country happy, healthy and prosperous. All political parties know this but how much commitment they are willing to put into this remains to be seen, especially as Brexit uncertainty continues.