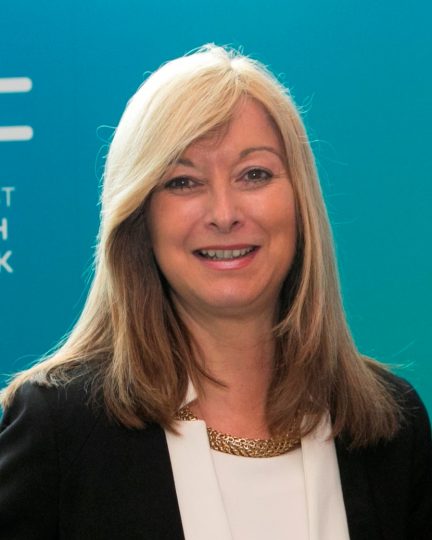 BLOG: Working differently
Working differently by Dr Liz Mear, Innovation Agency Chief Executive and NHSA Director
22nd June 2020
Dr Liz Mear talks about the benefits of working differently in a virtual world in the below blog via the Innovation Agency.
Last week I presented to four different meetings and a conference in one morning.  I used Zoom, MS Teams and Skype to do this and reached out to many different audiences.   All were very senior local, regional and national stakeholders.  Due to travel considerations, I would only have been able to attend one of these events in our pre-Covid way of working.
In the afternoon I recorded a voiceover for a presentation at a virtual national research conference.  As I don't have to travel to the conference I can now combine my attendance with some local work on the same day.
Nowadays, most of my days are similar in terms of variety and reach with many more stakeholders and partners.  Instead of choosing to go to one event in London, with the accompanying seven-hour travel time, I can attend a London-based event at 9am and then carry on with my day, meeting virtually with stakeholders, partners and staff, using a variety of communication platforms.
All colleagues, in similar roles, will be having this experience.  Working in this way can sometimes be draining and requires a lot of concentration, but it is allowing us to reach out to a larger number of stakeholders in different settings.
We've all been learning how to make a positive impact in this new world and I've been reading and listening to a number of commentators about how to do this well, plus learning from our in-house experts.  I love the chat function in meetings, where anyone can get their point across no matter how shy or lacking in confidence they feel.
Matthew Syed has written a series of articles for The Times on how to create a high-performance culture in a virtual world, getting a message across digitally and using virtual gatherings to be more productive.
Some of his key points, with my comments in brackets, are;
appearance is less significant in the virtual world (despite the 'touch up feature in Zoom)
virtual meetings can help build psychological safety by flattening social hierarchies, physical presence (and perceived gravitas) are no longer important
introverts are more likely to speak up with some ideas that might have gone unnoticed (the chat function can help here)
a regional accent and higher pitched voice works as well as a deep voice with a posh accent (that's good news for me!)
This has certainly been my experience. In well-established meetings, where we all know who will be the first to speak (sorry if that's me!) and who will have the biggest input, these hierarchies have generally been eradicated.
More people are speaking up and it's easy to see on a video platform those whose facial expressions and body language are showing they're not comfortable with the speaker's comments.
It is easy for the facilitator of a meeting to bring these people into the conversation. Or as outlined above they can be encouraged to use the chat function or put their hand/thumb up to communicate electronically.
I feel liberated using these new technologies and getting out of the long meeting habit. I hope we can use these methods of reaching out to our full advantage and give equal voice to all our partners, staff, stakeholders and residents.
If we are all prepared to embrace these methods of working, including our most senior leaders and politicians, these new technologies could be part of the levelling-up agenda.
We no longer need to travel long distances to the capital to make our point heard or to present at a conference or meeting. We can all have equal access to the country's leaders and decision-makers and make our point of view heard. We can also be more productive in the rest of our day, protect our environment by cutting our travel and devote more time to the patients, residents and staff that we serve.
I hope we can use these methods of reaching out to our full advantage and give equal voice to all our partners, stakeholders and residents.
Dr Liz Mear
Innovation Agency Chief Executive and NHSA Director
This blog was originally featured on the Innovation Agency website here