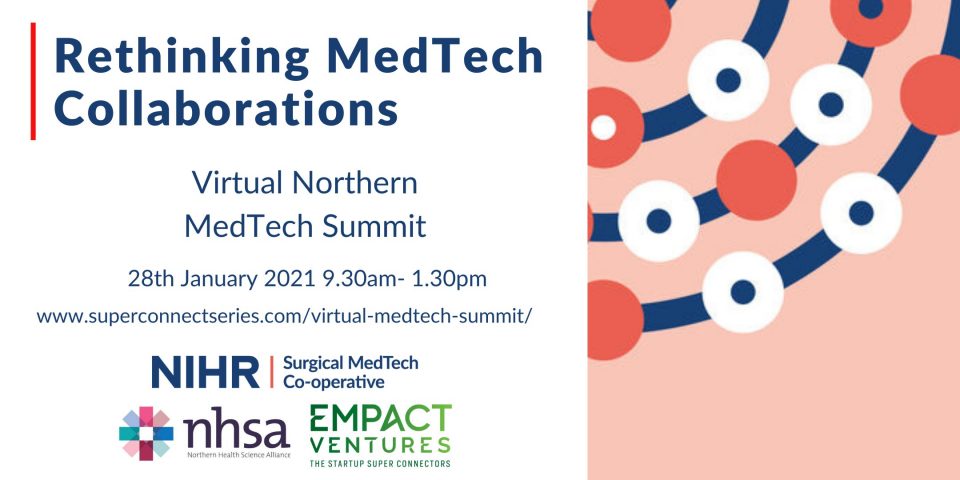 The Virtual Northern MedTech Summit launches
Opportunity to hear from the leading experts in healthcare and technology at new summit
7th December 2020
As the COVID-19 pandemic has put healthcare under unprecedented pressure, a new summit has launched to bring together leading MedTech experts and innovators to seek solutions in the sector.
Rethinking MedTech Collaborations – run by the National Institute for Health Research Surgical MedTech Co-operative, Northern Health Science Alliance (NHSA) and the University of Leeds, powered by global super connectors Empact Ventures – takes place virtually on January 28, 2021.
Experts from the world-leading North of England MedTech cluster will explore current challenges and opportunities in AI, surgical innovations, and the benefits of collaboration with over 45 speakers across nine roundtables.
These include 'The Role of Artificial Intelligence (AI) and MedTech in Healthcare', 'The Challenges, Trends & Opportunities faced by MedTech Companies in the North', 'Improving Patient Outcomes through the Latest Surgical Innovations', 'Overcoming Procurement Challenges to Maximise MedTech Adoption' and more.
Roundtable speakers include Neil Sebire (Chief Innovation Research Officer at Great Ormond Street Hospital Great Ormond Street Hospital for Children NHS Foundation Trust), Dr Christopher Herbert (Director of Operations, Research & Innovation at The Leeds Teaching Hospitals NHS Trust), Helen Hoyland (Programme Lead – Innovation & Relationships, Yorkshire & Humber Academic Health Sciences Network) and more.
Vee Mapunde, Programme Director of the National Institute for Health Research Surgical MedTech Co-operative, commented: "This meeting is the perfect opportunity for MedTech startups to connect with important players in the innovation system. We have partnered with the NHSA and Empact Ventures to deliver an engaging summit that will showcase the North and stimulate discussion on how we can drive MedTech collaborations for patient benefit. The NIHR Surgical MIC has been tasked with supporting the development and evaluation of surgical technologies for the NHS, and understanding the needs and requirements from a clinical and patient perspective is very important. We would really like all delegates to take the opportunity to network, visit the virtual booths and to participate in the roundtable discussions."
Dr Ben Martyn, Cluster Development Manager at the Northern Health Science Alliance, commented: "We are thrilled to support this event which will bring together leading figures and emerging innovators within the MedTech space, both regionally and nationally. At a time when the NHS is facing unprecedented challenges, collaboration and partnership working has never been more important. There is incredible work taking place within MedTech across the North and this summit offers a chance to bring innovators from NHS, universities and industry together to share ideas, create connections and further strengthen the North's MedTech cluster."
The Summit's audience will also hear from the top five MedTech startups and scale-ups from the recent Super Connect for Good competition, selected by NIHR Surgical MedTech Co-operative team, who will be pitching for adoption within the NHS, and/or investment. These include QV Bioelectronics based in Manchester; Bold Health based in London; My mhealth based in Bournemouth; CanSense based in Swansea; and GlycanAge in London.
In addition, it will also feature a keynote speaker and fireside chat to be announced alongside a digital exhibition of up to 15 leading HealthTech and MedTech startups and scale-ups from the nationwide Super Connect for Good initiative. These include the five companies above plus: TapSOS based in Belfast; Immersive Rehab based in London; MySense based in London; Kids Speech Labs based in Dublin; Medical Chain based in Leeds; V & V Health Innovations based in Leeds; Alcuris based in Leicester; VR Revival based in London; and CBRT Health Systems based in Bournemouth.
Kosta Mavroulakis, Founder & CEO of Empact Ventures & Super Connect for Good, commented: "It is an honour to be working with three fantastic organisations dedicated to promoting and supporting MedTech companies across both the North and the UK. Over the past few years, we've been running tech events in Leeds and Manchester as part of our national Super Connect Series and have been very impressed with the support available in the MedTech cluster across the North. We look forward to hosting not only people from across the North, but from around the UK and beyond to discuss, connect and create new MedTech collaborations that will benefit society in years to come."
Elena Mustatea, CEO of Bold Health spoke of the achievement of winning the MedTech Industry Stream of the Super Connect for Good competition including £10,000 from NIHR Surgical MedTech Co-operative, who will present at the summit comments: "We were truly delighted to be the MedTech winner in the Super Connect for Good competition for our contribution to increase the quality of life of under-served NHS patient populations suffering with common digestive conditions like IBS, who are struggling to get the care they need especially in pandemic times. We are keen to connect with NIHR and NHS organisations at the summit, and to learn how we can adopt to partnering and commercialisation in the UK in the context of COVID and increased strain on the medical system. The £10,000 award will allow us to pilot our project within the IAPT services providing psychological therapies for long-term conditions in the UK and with UK NHS practices across the nation. Many thanks for the honour and opportunities to connect!"
Visit the Super Connect Series website for more information and to register here