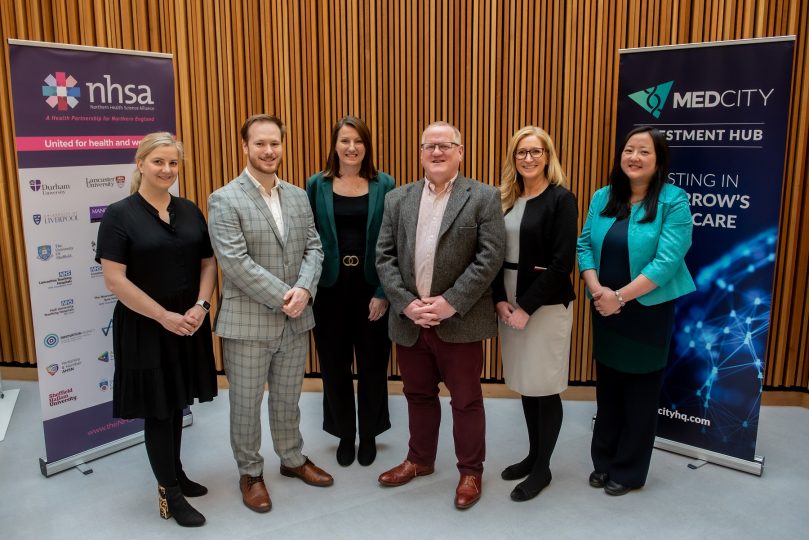 First Life Science Innovation and Investor Showcase
In his blog, NHSA Cluster Development Manager, Ben Martyn, reflects on a first successful Life Science Innovation and Investor Showcase.
20th March 2022
In early March, the NHSA and MedCity delivered our first ever joint cluster event at the vibrant NEXUS building in Leeds.
The Life Science Innovation and Investor Showcase, supported by Research England and Research and Innovation UK, was attended by more than 50 research and innovation managers, investors, as well as other UK life science cluster organisations, Health Innovation Research Alliance North Ireland (HIRANI) and Midlands Engine Health.
Our Cluster Development Manager, Ben Martyn, reflects on a fantastic day, packed with inspiring talks from leading innovators and networking opportunities to connect individuals and support investment in early-stage, growth-driven UK life science companies.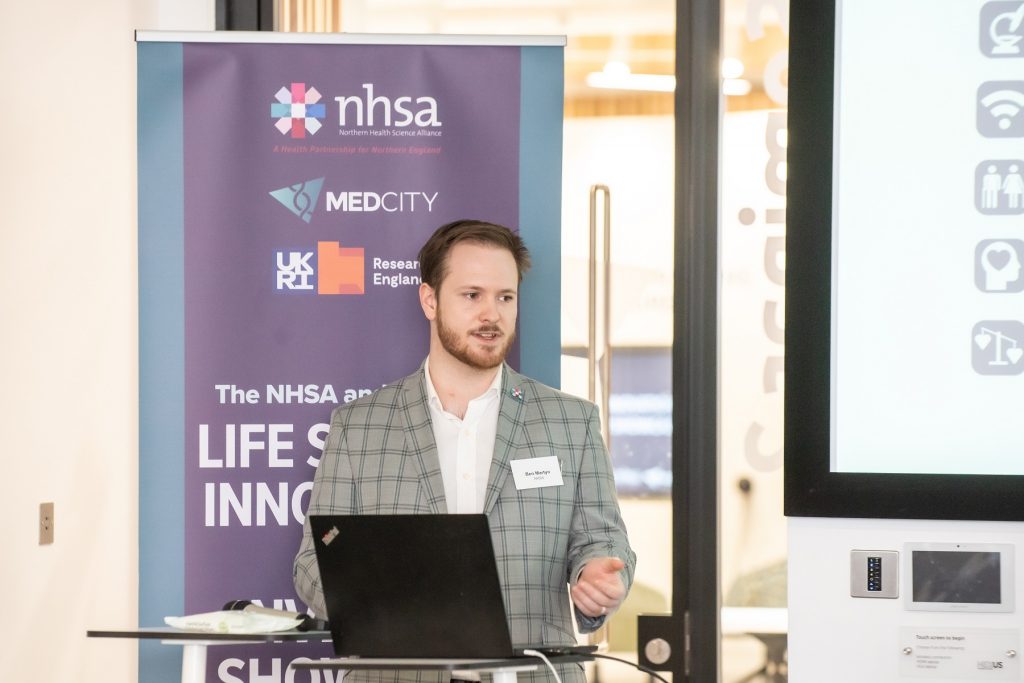 After months of planning, it was a privilege to welcome innovators and investors from across the country to the Life Science Innovation and Investor Showcase at NEXUS, Leeds.
It was our first joint cluster event with MedCity, and, as two of the UK's leading life science cluster organisations, it was our aim to bring together individuals and organisations to accelerate life science innovation in our regions and across the UK.
By bringing together the strengths of our regions, with the support of the Midlands and Northern Ireland, to grow the life science sector, we are demonstrating how levelling-up is win-win for the UK.
We heard from a wide range of speakers representing both the public and private sector, including incubators, accelerators and innovation agencies, who are working to find, build and scale innovative life science companies.
Not only did the presentations offer fascinating insights into the cutting-edge new technologies in development, but it was great to meet new and familiar faces again in person, to discuss how together we can tackle some of the biggest challenges facing healthcare today.
Throughout all of the discussion and talks, there were some clear emerging themes and agreement across the board that successful innovation requires a diversity of talent and input, from multiple disciplines and backgrounds. The path may not always be straightforward, but when everything aligns, amazing things can happen.
At the NHSA and MedCity, we believe that there is a real opportunity for the UK to become the global life sciences innovation hub, based on strengths we have across the entirety of the country.
The life science sector is vital to the UK economy, and this was recognised by the UK Government in the Life Sciences Vision and highlighted by the record breaking £4.5 billion of investment raised by UK biotech companies in 2021.
Our NHSA member organisations and partners across the country, are working on programmes to find and validate innovative companies that fulfil unmet clinical needs and provide them with the wraparound of support to have the best chance of success.
Access to investment is a vital part of any company's journey to success, but we know it can be much more of a challenge for businesses in the North. Working collaboratively and overcoming geographical inequalities is key to redress the balance.
This should be in no way to the detriment of London and the South East, but it is about recognising the huge strengths that the life sciences sector in the North brings and the significant opportunities for growth and job creation, which will benefit the whole of the UK. For excellence to thrive, we are stronger together.
By working with MedCity and thinking outside the box, we have the opportunity to connect investors to teams co-developing innovative solutions to unmet needs within the healthcare system.
What was clear at the event, is that there are lots of organisations and individuals pioneering great things to advance health and life science innovation.
The companies our NHSA members are working with, offer a de-risked proposition to investors, as the NHS has validated the market need and worked in collaboration to co-develop products and solutions.
After a successful first event, we will continue to drive opportunities for innovative companies to access funding across the UK and particularly in the North.
At the NHSA, collaboration is at the heart of everything we do and it was fantastic to work with MedCity on this joint event.
We look forward to continuing the conversations which started on the day, so that we can further understand the opportunities and barriers for investors and broker future collaborations which will benefit people's health and wealth.
Thank you to everyone who came along to our first Life Science Innovation and Investor Showcase. It was great to see you there and we're already looking forward to the next one!