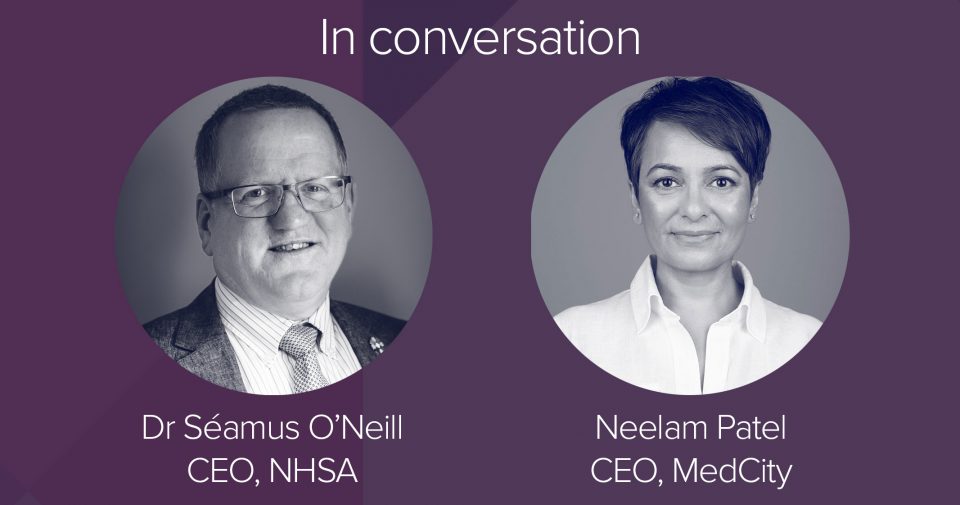 In Conversation: NHSA and MedCity unite in joint event
We brought together MedCity CEO Neelam Patel and NHSA CEO Dr Séamus O'Neill in conversation, to explain the thinking behind the event.
2nd March 2022
On March 3, the Northern Health Science Alliance (NHSA) and MedCity unite the strengths of two clusters through their first joint Life Sciences Innovator and Investor showcase, being held in person in Leeds. To explain the thinking behind the event, and the broader concept of clusters as connectors, we brought together MedCity CEO Neelam Patel and NHSA CEO Dr Séamus O'Neill in conversation. As usual when these two get together, the conversation is lively and thought provoking…
Séamus:
I wanted to start by briefly setting this event against the context of some of the government thinking on cluster formation that George Freeman and others have expressed. I want to emphasize that moving the dial in a positive direction on the UK economy needs to be about joining up clusters, as well as investing in any one cluster. That's where we've said all along that the opportunities for collaboration lie, and the benefits for the UK are to be had.
Our joint investment event, for example, where investors from the South are coming to meet innovators in the North, could lead some people to start thinking, "Well if all the investment goes North, there's not going to be enough for the South." But it's not a zero-sum game. The movement of capital is a good way to stimulate economies overall, and the lack of availability of capital in the North is very often a problem for growing companies – it holds the UK back overall. It is a complex ecosystem but MedCity and NHSA, as the two longest-established UK cluster organisations, have insights and understanding between them that means (although they might not have all the answers to that problem) they have the start of a solution to the capital base being concentrated in the South and the need for capital in the North. Making that come together, as we're doing with this event, is a big part of what needs to happen.
Neelam:
I totally agree. For me, it's going back to basic principles. I remember attending one of the meetings of the Academy of Medical Sciences, where Professor Sir Robert Lechler was chairing. He spoke about the value of asset mapping of clusters, because that is where science and innovation excels. So, what I hope, is that the joint investment event brings an opportunity for investment, and sight of where the scientific strength is across the whole of the UK. In fact, cluster organisations are a door to accessing those strengths.
What we are seeing, particularly with the pandemic, is that people aren't tied to geography; companies aren't tied to geography. They go where there is growth opportunity. Very often companies may start off in our geography, perhaps because they are spinouts from the concentration of universities here. However, they may only stay a limited time here because they then need to access capabilities elsewhere and then come back, or keep the connection and network at their home base. That's why connection between places is so important. We provide that connectivity to the companies we support, and that's what investors also need to be able to understand, and work with us to access that.
Séamus:
We're not telling anybody what they need to do, but we are providing an opportunity by linking two things that are definitely stronger together — our clusters and the excellence within them. For instance, if you look at the attendees for our event, we have multiple investors, multiple accelerator programmes, and four cluster support organisations. We've got the Midlands Engine and HIRANI (Health Innovation Research Association of Northern Ireland) coming, with MedCity and NHSA hosting. This example is one part of the solution. I think another part of the solution is what MedCity and NHSA bring to the table in creating an environment where people can learn to trust each other and work together — whether that's on investment, research, clinical delivery or partnerships that span clinical academia.
Levelling up should not be about diminishing London or the Golden Triangle. That won't help anyone, but we've got to find a way to broaden the UK research base and for people to work together in a far more scaled-up way, so that we can deliver enough benefit to the North, without taking away from the South. Behaviours have to change all across the system. We've got to find ways to avoid parochial approaches. Innovation works best in an open, diverse environment and creating that sort of environment within our clusters has been a decade's work. We are starting to see the value of creating that trust and scale across clusters too, as this event and our other joint-working with MedCity proves.
Neelam:
You know, I agree. Sometimes people can be drawn into their own agenda, without seeing it from others' perspectives, and actually, if we are aiming to support the entire UK as a global life sciences leader, then our competitors are not within the UK at all. We therefore need to join up, to make life easier for those companies that are wanting to work in the UK. We've already talked about the fact that for companies to be successful, they need widespread support and access, not through just one geography. So, it's our job to make that access easier surely.
Séamus:
If you look at our recent joint report, Superclusters for Global Britain and Northern Ireland, you can see each cluster is complex, and there is no 'one-size fits all' model. You have to be in it to understand its strengths, how impact can be made, and tweak the things that are weaker. One of the things we identified that's weaker in the North is the capital flow and now, between MedCity and NHSA, we're trying to do something about that. If we do it well, it will enrich the environment that we operate within, and help companies in the North to grow.
Neelam:
Absolutely, but I think it's fair to say that one event isn't going to solve world hunger, so to speak, and we've talked about the fact that you must raise awareness of what is possible, and then it's a matter of repeated engagement and awareness, messaging, and facilitation.
I look on our event next week as an example of how we, as clusters, can deliver initiatives relatively easily and quickly. If we can make a lot of impact in doing so, then why wouldn't we do more of it?
ABOUT THE EVENT
The NHSA and MedCity Life Science Investor and Innovation Showcase shows the scale and quality of work the Northern Health Science Alliance (NHSA) and MedCity members are delivering in partnership with industry to de-risk and develop innovation in health and life sciences. By bringing together innovation programme managers and investors from across the North of England, London, and the Greater South-East of England, we aim to jointly support investment in early-stage, growth-driven UK life science companies. The event is supported by Research England and Research and Innovation UK.