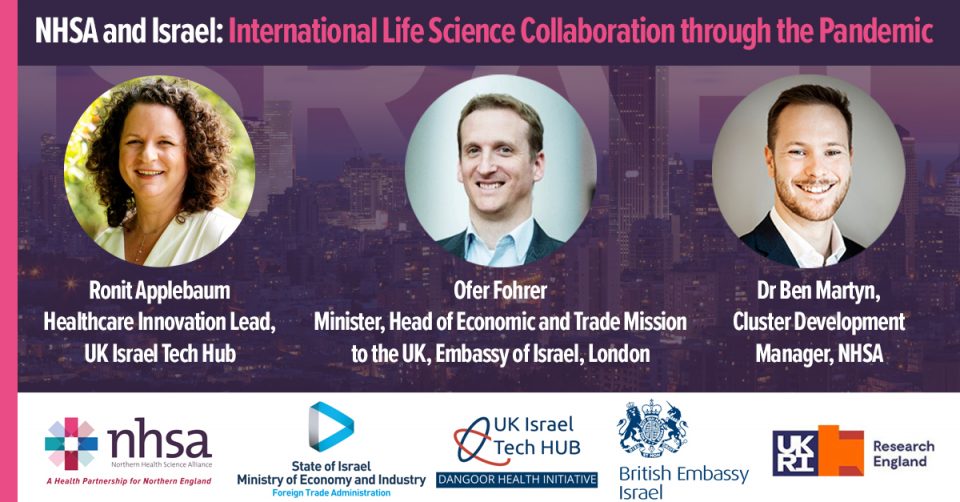 NHSA and Israel: International Life Science Collaboration through the Pandemic
Blog explores how NHSA and Israel are working together to tackle major global healthcare challenges.
10th May 2022
This May, the NHSA is leading a Northern Innovation Tour to Tel Aviv, Israel, bringing the North's world-class health and life science sector to the global stage, alongside 15 leading academics and healthcare professionals from our member organisations.
The delegation wouldn't have been possible without the support of our co-hosts – the UK Israel Tech Hub and the Israeli Foreign Trade Administration.
It comes three years since our last in person visit to Israel's leading life science and technology event, Biomed, in 2019, after which the COVID-19 pandemic halted international travel. Yet during that time, collaboration has grown stronger between the North of England and Israel, despite the challenges of the pandemic.
Here, Ronit Applebaum, Healthcare Innovation Lead at the UK Israel Tech Hub and Ofer Fohrer, Minister, Head of Economic and Trade Mission to the UK from the Embassy of Israel, London, join NHSA Cluster Development Manager, Dr Ben Martyn, to explore how the NHSA and Israel are working together to tackle major global healthcare challenges through innovation.
How did you work together through the pandemic to strengthen the partnership?
Ronit
We met with Ben and the NHSA team at Biomed 2019 in Israel and although the pandemic hit not long after, our partnership continued to grow. We held regular virtual meetings and email exchanges between the relevant parties and continued to develop the relationship.
We also took a delegation of start-ups from Israel to the North of England in March 2022, once the pandemic was more manageable, and this was a great opportunity to meet the partners in person.
Ofer
I think the one of the key aspects was that we didn't let the pandemic hold us back. During 2021, the NHSA collaborated with the Embassy of Israel to the UK and ran several virtual scouting projects for NHSA members in general healthcare innovation fields, as well as elderly care healthcare solutions.
In these projects, over 100 meetings were scheduled between Israeli companies in healthcare and 11 NHSA member organisations.
As an example, in the second half of 2021, the NHSA and Israel's Economic and Trade Mission to the UK partnered up to host a series of innovation-focused events centered around elderly care – the Israel-UK Elderly Care Tech Innovation Week. The aim of the event was to enable NHSA members to meet with innovative healthcare companies in their areas.
Preparation started months prior to the innovation week itself, with the support of Ben and Sarah from the NHSA who informed members and invited participating Trusts to feedback on their innovation needs.
Israeli MedTech companies presented their innovations to representatives from the healthcare organisations to explore ways of working together. In total, NHSA members met with 35 companies offering innovative MedTech solutions which span remote patient monitoring equipment, wearables, clinical decision support systems, to oncology solutions.
Ben
As Ronit and Ofer have mentioned, there have been lots of exciting developments between us over the past few years, and it has been fantastic working with them both and their wider teams. We have grown stronger through the pandemic by keeping in touch regularly. We weren't deterred by the fact that we were unable to meet in person for a time. In fact, we embraced different ways of working and digital technologies.
The UK and Israel are naturally aligned to take on major healthcare challenges, and we're committed to improving patient care and innovating in fields from advanced therapies to medical technologies, data and AI. Through COVID-19, we continued to facilitate connections between Israeli start-ups and our member academic institutions and NHS research facilities, to look for healthcare solutions which took on even greater significance due to the pandemic.
We have also been preparing for our delegation to Biomed 2022, which has involved a considerable amount of work and planning from all parties.
Tell us how the 2022 delegation came about.
Ronit
To give some context, our partnership goes some way back now. In 2017, the NHSA approached us as they were looking for innovations and to be a testbed for technologies in the NHS. We were in contact with a very large number of health-tech start-ups that wanted to test their products.
We were keen for early stage start-ups to go to the UK as early as possible and generate clinical evidence, so that by the time their products were market-ready they had the right data, the right evidence, and knew some of the right people in the system.
There was immediate alignment and appetite on both sides, and over six months we had forged a number of opportunities. In 2018 we signed an MoU with the NHSA to formalise our work in creating opportunities for Israeli companies to access the clinical research environment in the North of England.
In 2019, we hosted an NHSA delegation to Biomed with 17 people from 11 organisations.  We were planning other activities when COVID hit, such as Biomed 2020, UK visits, a pilot programme, which had to be paused.
Since the Biomed 2020 delegation was cancelled, the NHSA was looking for a way to keep members engaged, so we ran the Dangoor Healthcare Challenge, aimed at exposing British organisations to as many Israeli start-ups as possible. We ran this in Q4 2020. This is also the aim of the Biomed 2022 delegation, which we are delighted to co-host.
Ben
The foundations Ronit discusses are so important and they are the reason why we are here in Israel again today. Israel has a thriving life science sector and it is known as the start-up nation – a powerhouse for health innovation with many companies pioneering cutting-edge new technologies.
Now that a strong pipeline of Israeli companies are engaged with the NHSA, we are looking forward to strengthening our partnership and encouraging members of the delegation to collaborate.
It is thanks to the hard work and dedication of all of our teams that the delegation to Biomed 2022 is happening and we're proud to represent the UK's bold ambitions for life sciences and health technology on the international stage.
It was no mean feat to pull off organising the delegation, especially during a global pandemic, but we all met regularly to plan and coordinate a fantastic visit.
During the delegation, we exhibit alongside thousands of innovators at Biomed, and join talks from world-renowned tech innovators. We have planned meetings with innovative Israeli companies and we'll be visiting strategic healthcare locations and holding discussions with senior healthcare officials in Israel, for knowledge exchange and collaboration.
Why is it important?
All
The COVID-19 pandemic has brought global healthcare challenges to the forefront and with this, the need for innovative solutions to address them. The UK and Israel have a real opportunity to embrace each others' strengths and work together to make things happen.
Ultimately, the goal is to improve people's health and lives, enabling them to access the innovations and technologies they need.
From discoveries in AI to advanced therapies, the possibilities are endless thanks to exciting developments in life science. We are thrilled to be exploring them further during the delegation to Tel Aviv, and strengthening our partnership for the future.
The NHSA 2022 delegation to Israel brings together academics, industry and healthcare professionals, including representatives from: NIHR Clinical Research Network, Yorkshire and Humber Academic Health Science Network (AHSN), Innovation Agency North West Coast, University of Sheffield, Sheffield Hallam University, Manchester University NHS Foundation Trust (MFT), Rotherham Doncaster and South Humber NHS Foundation Trust, Sheffield Teaching Hospitals NHS Foundation Trust, The Leeds Teaching Hospitals NHS Trust, and Lancashire Teaching Hospitals NHS Foundation Trust.