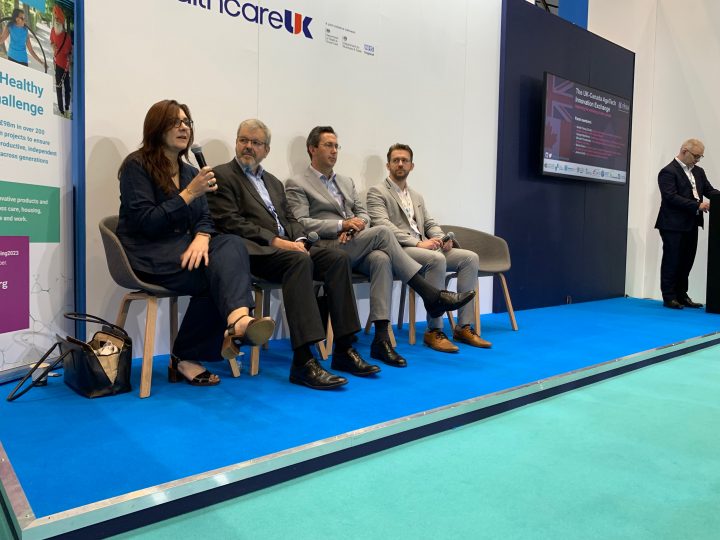 NHSA leadership in action
Our leadership team have been representing the NHSA and its members nationally and globally.
26th June 2023
Members of our leadership team have represented the NHSA and its members nationally and internationally at a number of events in the last month.
Chief Executive Dr Séamus O'Neill spoke at the Westminster Social Policy Forum on regional research & innovation clusters, highlighting the importance of genuine partnership working to provide cohesion across the system. Séamus also spoke at the Big Tent Leaders' Summit on Friday 16 June. He facilitated a Health for Wealth panel with Provocateurs from the NHS Confederation, Equality Trust and York Healthwatch.
Dr Mandy Dixon, NHSA Executive Lead for Corporate Engagement and Cluster Development, who also leads the NHSA's Healthy Ageing programme, spoke at the NHS Confederation Expo last week.  Mandy, together with the partners in the UK-Canada AgeTech Innovation Exchange, took part in a panel on 'Improving wellbeing of older people', detailing how the partnership is working to make a difference to older people's healthcare and the Exchange's successes so far.
Health Equity North Executive Director Hannah Davies spoke on two health panels at the 2023 Northern Research Group conference explaining that if we can tackle poor health we can boost productivity across the North and how child poverty is a leading driver of low school attainment.
Dr Ben Martyn, Executive Lead for Investment and International Partnerships, attended the H20 Summit in Geneva, representing the NHSA and its members, bringing the northern England perspective to the discussion of the challenges in providing health for all and the links between health and other global challenges.
Helen Cole, NHSA Executive Lead for Health Technologies and Evaluation, has been recruited as an expert MedTech and Diagnostics panel member for Lean Life Science, in their Innovate UK (IUK)-funded Oncology Accelerator (ODP2). Helen is working with other subject matter experts to guide two MedTech companies and two Diagnostics companies as they develop their project plans for the accelerator funding available to them. Key to this is our signposting and referral offer, where we will introduce the innovators to NHSA member organisations who have expressed an interest in partnering in this funding opportunity.