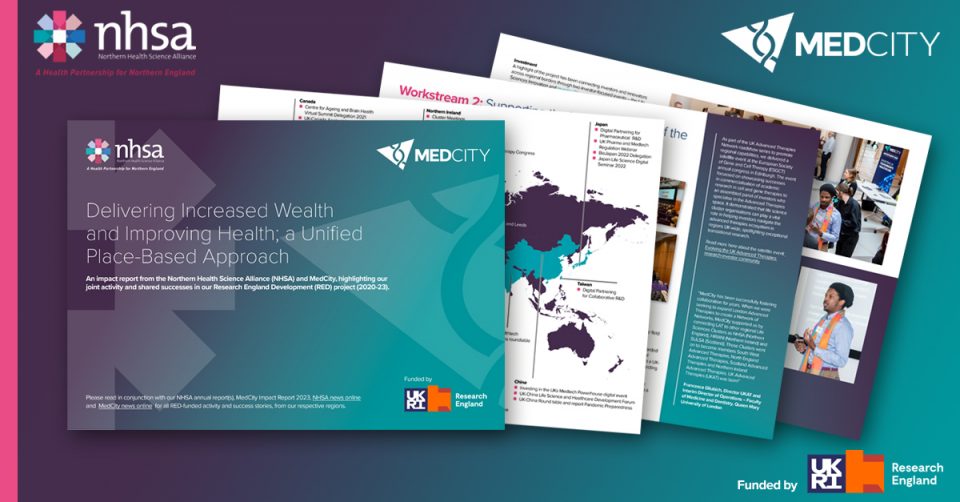 Partnership harnesses UK health and life sciences expertise
Impact report highlights successes of Research England-funded NHSA and MedCity partnership
29th June 2023
The successes of a partnership project between the Northern Health Science Alliance (NHSA) and MedCity have been shared in a new impact report.
Following the completion of a three-year Research England-funded project, the report highlights the joint activity and achievements over the period.
The project, which ran from 2020-23, was the first time that cluster organisations hosted by leading universities in the North and South of England collaborated to support UK life sciences growth and productivity.
With a focus on driving economic growth within the life sciences ecosystem, the NHSA and MedCity were tasked to scale up activities, build upon existing programmes of work, and bring new activities and initiatives forward that support collaboration between universities, industry and the NHS.
The impact report showcases how the partnership delivered on the objectives during the last three years. This includes examples of:
Developing international programmes to build the UK's profile in key emerging markets – which included Japan, China and Germany.
Supporting the implementation of the Industrial Strategy and Life Sciences Vision – with a focus on developing diagnostics and advanced therapy networks and facilitating innovator investment opportunities.
Supporting the growth of UK Life Science clusters through shared learning – by bringing together a federation of the emerging life science cluster-support organisations in the UK.
Dr Séamus O'Neill, Chief Executive of the NHSA, said: "Reflecting on what has been collectively achieved during our three-year partnership with MedCity fills me with immense pride. The UK health and life sciences sector is thriving, and we have long known that the infrastructure and assets within our regions have great global potential.

"By pooling knowledge and expertise through our joint working, we have successfully bolstered the UK sector on a national and international scale. The UK needs vibrant, connected clusters in life sciences if it is to be a Life Sciences Superpower. I truly believe that the momentum and connectivity developed during this Research England programme will continue to deliver benefits for the UK sector over coming years."
Read the NHSA and MedCity impact report 'Delivering Increased Wealth and Improving Health; a Unified Place-Based Approach' here