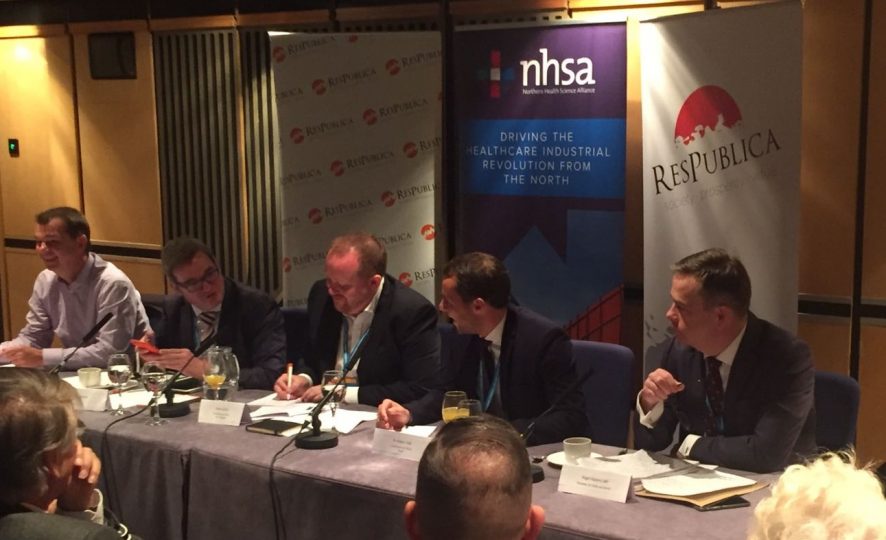 Conservative Party Conference, the 'Roar of Brexit' - and a new deal for the North
Dr Hakim Yadi CEO of the Northern Health Science Alliance reflects on this week's Conservative Party Conference
This week I spent three packed days in Birmingham for the Conservative Party Conference. The key topic on most people's minds was of course Brexit and how it impacts both our domestic policy and international position on trade and inward investment.
The 'Roar of Brexit' was clearly heard by central government and its challenges have been taken on. In the Prime Minister's speech, and in the many fringe events and discussions I attended, it was clear that from backbenchers, to Ministers and up to No 10 – Brexit and the causes behind it are being looked at seriously.
If I needed further evidence of this the fringe event that the Northern Health Science Alliance held with the leading think tank Respublica on Monday lunchtime was packed, standing room only, with an audience desperate to understand how Brexit will impact the North and what new deal we can expect in a post-Brexit economy.
Of real interest and relevance to the North of England was the discovery that people very close to the government's new industrial strategy are keen to link the strategy to specific places, so that the individual city regions of the United Kingdom understand how and where their capabilities align to the national strategy.
In our sector of healthcare and life sciences it was great to see the announcement of £100 million further investment into the biomedical catalyst – alongside real commitment from Ministers and MPs to the UK's life science industry.
On personal reflection from the conference it felt as though the majority of the issues were focused on those 52% of the electorate who voted out and not enough on the 48% that voted in. Brexit clearly has to work for both sets of voters.
For those of us who work North of Watford the Brexit result was no surprise.  Alongside voting out of the EU the vote demonstrated, particularly from the North and other post-industrial regions, that the electorate is disenfranchised with the 21st-century model of economic growth and wealth distribution.
They are absolutely right to be upset by this model, the United Kingdom is one of the most economically unbalanced countries in Europe. In Germany for example there are several cities outside of Berlin with a higher GDP per capita. In the United Kingdom there is only London and then there's the rest. For example GDP per capita in London is about $44,000 and in the North of England its $22,000. The North has a long way to go.
The coming weeks and the outcome of the autumn statement will be fascinating, and a good indicator of what the North can expect from this new Government.