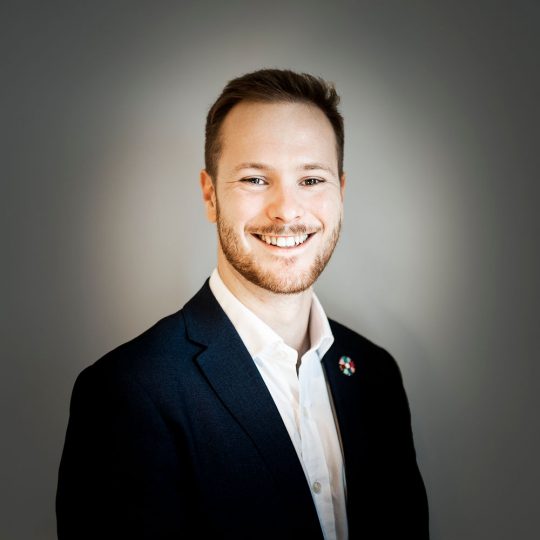 Dr Ben Martyn appointed to lead cluster development
NHSA's Dr Ben Martyn takes on new role as Cluster Development Manager
3rd February 2020
The Northern Health Science Alliance (NHSA) has appointed Dr Ben Martyn as Cluster Development Manager as the alliance strengthens its team following a multimillion-pound funding boost.
The internal appointment sees Ben move from his previous role as Business Development Officer and Analyst – a joint role shared between the NHSA and Yorkshire & Humber Academic Health Science Network – into a newly created position leading the NHSA's cluster development activity.
It comes following the announcement of a £4.5 million partnership project between the NHSA and MedCity, funded by Research England, part of UK Research and Innovation, which will improve the visibility of UK life sciences expertise on the international stage.
A core element of this collaborative work includes connecting the UK's life sciences clusters and delivering joint projects and programmes of work with the goal of creating a 'Federation of UK Life Sciences Clusters'.
As Cluster Development Manager, Ben will continue to develop the NHSA as an exemplary cluster supporting public and private sector health and life science activity in the North of England, with a particular focus on the NHSA's core areas of activity, which include healthy ageing, data and learning systems, health inequalities, mental health, and translational research.
Ben said: "2020 marks an exciting new phase for the NHSA following the Research England funding and I'm looking forward to playing an important role in shaping our future cluster development activity around the project.
"The North of England has some incredible assets when it comes to health innovation and my new role will focus on utilising the strengths across our region by bringing together research experts from NHS trusts, universities, Academic Health Science Networks, and industry to create networks that can, ultimately, bring health and economic benefits to the North.
"We have a lot to offer as a region and by working collectively we can increase the visibility of our world-class capabilities on a national and international scale to bring opportunities and investment into the North of England."
Dr Séamus O'Neill, Chief Executive of the Northern Health Science Alliance, said: "It's with great pleasure that we welcome Ben into this new role at the NHSA. Ben has been instrumental in raising the profile of the NHSA and its members regionally, nationally and globally over the last couple of years, making him ideally placed to lead the NHSA's cluster development activity as we enter a new chapter in our journey.
"I have no doubt that Ben's passion for the NHSA's vision, his commitment to and understanding of the members we represent, and his expertise in fostering collaboration across healthcare and industry, will prove invaluable as we continue to build upon our reputation as one of the UK's leading life science clusters."
Since joining the NHSA in 2018, Ben has worked closely with NHSA members and industry partners to support the development of commercial engagement with the NHS and clinical research environment across the Northern Powerhouse.
A University of Warwick PhD graduate, Ben developed an understanding of working at the intersection of business and life sciences research while studying for his doctorate. Alongside his academic research, Ben also undertook a business module delivered by Warwick Ventures, the University's technology commercialisation office.