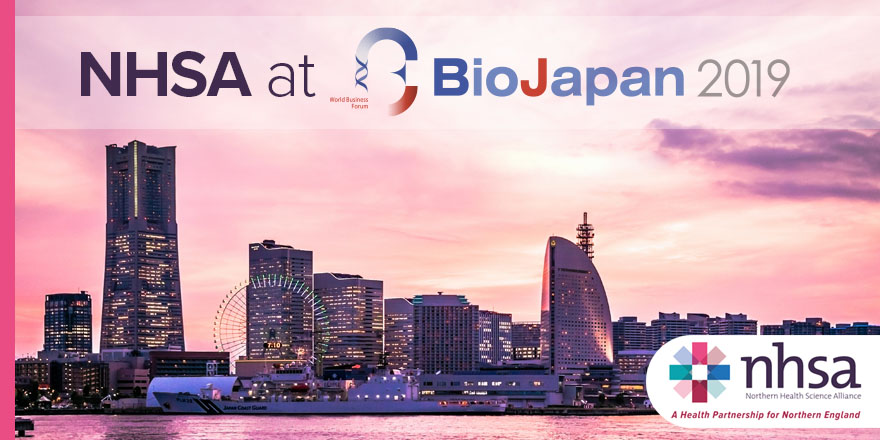 NHSA joins UK life science delegation to Japan
NHSA to champion the North's life sciences capabilities as part of a delegation of UK experts heading to Japan
7th October 2019
The Northern Health Science Alliance (NHSA) will champion the North's life sciences capabilities on an international scale as it heads to Japan as part of a delegation of leading UK experts.
The trade mission, led by MedCity, will include attendance at the Kobe Biomedical Innovation Cluster Symposium, UK Life Sciences Symposium and Link-J Global Life Sciences Session in Tokyo, and the annual biotech partnering conference, BioJapan, in Yokohama.
The three-day conference, which takes place from October 9 – 11, plays an important role in facilitating interaction between Japanese and global companies and organisations to stimulate new business opportunities.
The Japanese pharmaceutical market is the second largest in the world and the visit provides an opportunity to showcase the health science expertise and assets in the North of England to a global audience of life science businesses and organisations.
Keith Miller, the NHSA's Head of Corporate Engagement, said: "The NHSA has had a presence at BioJapan over the last few years and we're looking forward to building on that momentum this year.
"Japan is a truly exciting market and one that presents many opportunities for the North's life sciences sector. We want to showcase the region's health science and research strengths during our time in Asia to encourage collaboration and investment between Japan and the North of England."
Following the Japanese leg of the trade mission, the NHSA will also join some of the delegation as they travel to Seoul in South Korea to take part in the Seoul BioHub Symposium and the UK-South Korea Life Science Symposium on October 14.